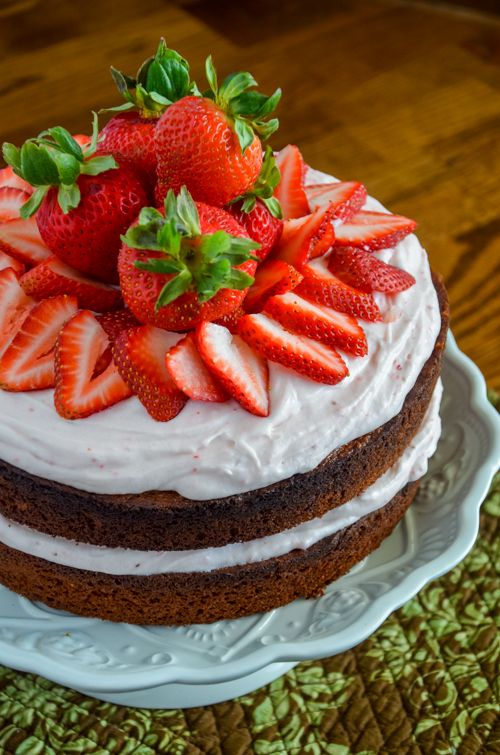 Throw your hands up in the air, strawberry season is here! After fresh pineapple, strawberries come in at a close second as my favorite fruit and I love to bake with them. Which is perfect, since In The Raw® asked me to recreate their Strawberry Buttermilk Cake, featuring Sugar In The Raw Organic White®!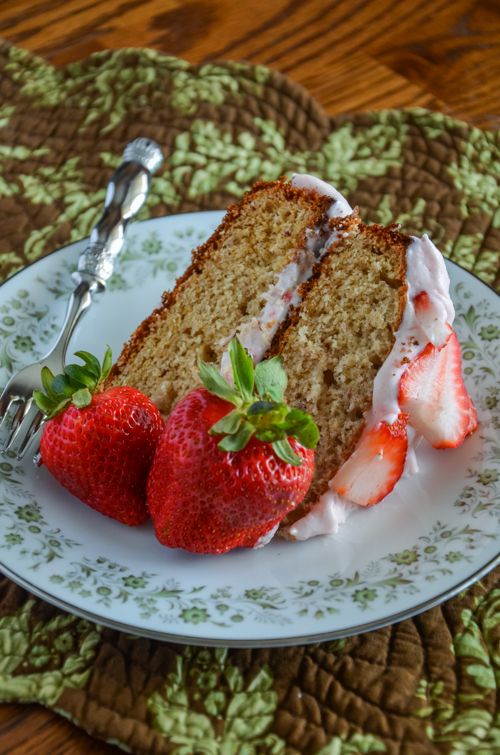 As a wholesome alternative to refined white sugar, Sugar In The Raw Organic White® crystals are never bleached and retain their natural-white color. It blends beautifully, browns and dissolves easily in cooking and baking and it's fair trade certified, USDA Organic and non-GMO, so it's great for both you and the environment.
Strawberry Buttermilk Cake
Ingredients
For the Cake:

2-1/3 c cake flour, sifted
1-1/2 tsp baking powder
1/2 tsp baking soda
1/4 tsp fine sea salt
1/2 c strawberry jam
1/2 c buttermilk
12 tbsp unsalted butter, softened
1 c Sugar In The Raw Organic White®
1 tsp vanilla
3 eggs

For the Frosting:

1/2 c hulled and quartered strawberries
8 tbsp unsalted butter, softened
8 oz cream cheese, cut into cubes
4 c powdered sugar, sifted

For the Garnish:

12 strawberries, hulled and thinly sliced lengthwise
Instructions
Preheat oven to 350˚F. Butter and flour two 9" cake pans and line the bottoms with parchment.
In a medium bowl, whisk together flour, baking powder, baking soda, and salt. In another bowl, whisk together jam and buttermilk. Set aside.
In the bowl of a stand mixer or a large bowl, beat butter until creamy. Add Sugar In The Raw Organic White® and beat until light and fluffy, about 3 minutes. Beat in vanilla. Add eggs one at a time, beating in until combined. Scrape the sides of the bowl as needed. Add the flour mixture in 2 parts alternating with the buttermilk mixture, beating until smooth. Divide batter between cake pans and bake until a toothpick inserted in the center comes out clean, about 25-30 minutes. Let cool in the pans on a wire rack for 10 minutes, then place a second rack over the cake pans and flip them carefully. Remove the cake pans and parchment and let cakes cool completely.
Make the frosting. In a food processor, pulse the strawberries until finely chopped. In the bowl of a stand mixer or a large bowl, beat the butter until smooth. Add cream cheese and beat until combined. Add powdered sugar and beat until smooth, scraping down the sides of the bowl as needed. Beat in 3 tablespoons of the chopped strawberries.
Place bottom cake layer on a serving plate or cake stand. Top with a thin layer of frosting. Place second cake layer on top, and top with remaining frosting and sliced strawberries. If desired, leave a few berries whole for garnishing.
Recipe courtesy of In The Raw.
http://mybakingheart.com/2017/06/05/strawberry-buttermilk-cake/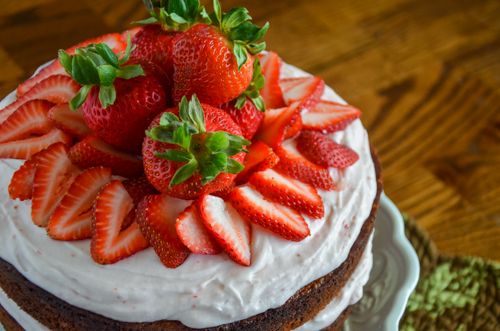 We enjoyed slices of this delicious cake over Memorial Day weekend, but it's sure to be the star of the show at your Fourth of July party next month!

Disclosure: This is a sponsored opportunity & compensation was provided by In The Raw; however, the photography & opinions expressed herein are solely those of the author.