Since Chris' work schedule takes him away from us at night, we won't be able to celebrate his birthday with our usual dinner & cake tonight. I wanted to send him off to work with a portable sweet treat, so when these Lemon Almonds & Unsalted Organic Almond Butter from Woodstock Foods arrived, I knew just what I'd make.
Chris loves anything with lemon, and these bars did not disappoint! Especially since I also included Stonyfield's Double Cream Yogurt. It's so rich and creamy, I'm using it in everything from sauces & dips to baking sweets like these Lemon Almond Butter Bars. They're sweet & chewy, with a little tang from the lemon and crunch from the almonds. Just perfect for picnics, lunch boxes or celebrating something special!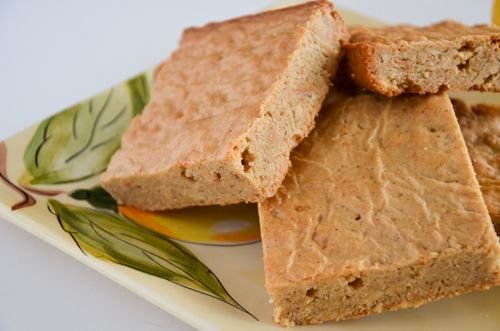 Ingredients
1/4 c unsalted butter
1/2 c Woodstock Organic Almond Butter
1-3/4 c light brown sugar, packed
1/4 c Stonyfield Double Cream yogurt
2 lg eggs
1/2 tsp Kosher salt
2 c all-purpose flour
1/2 tsp baking powder
1/2 c Woodstock Organic Lemon Almonds, chopped
Instructions
Preheat oven to 350 degrees F. Butter and flour a 9" x 13" baking dish and set aside. In a large saucepan, melt the butter and almond butter over medium heat. Cook, stirring until completely melted and smooth. Remove the pan from the heat and whisk in the light brown sugar.
Prepare the chopped almonds while this cools slightly. Once cooled, add whisk in the yogurt and eggs. Stir in the salt, flour and baking powder until well combined. Fold in the chopped almonds, then spread the bar mixture into the prepared baking dish, pressing the batter down evenly with a spatula. Bake for 24-26 minutes, or until set. Let cool for at least 30 minutes before cutting & serving.
http://mybakingheart.com/2017/02/28/lemon-almond-butter-bars/

Disclosure: I am honored to be a member of the Stonyfield Clean Plate Club. Compensation was provided in the form of product and coupons by Stonyfield & Woodstock Foods; however, the photography & opinions expressed herein are solely those of the author.