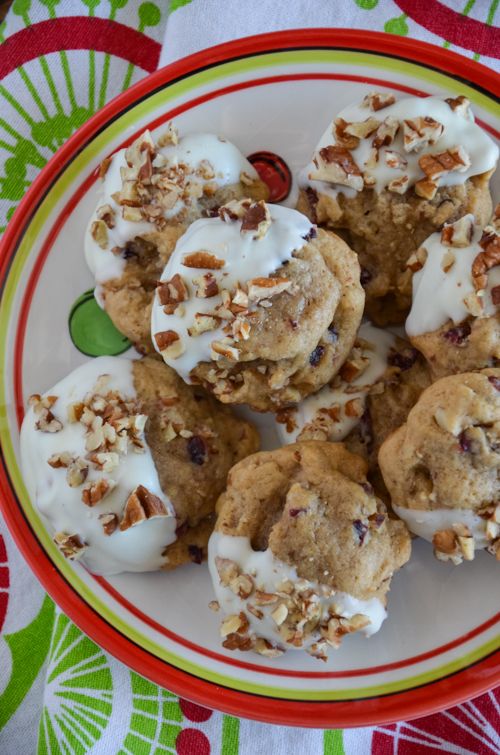 Once again, I've partnered with Stonyfield and Bob's Red Mill to bring you a sweet treat for the holidays! These festive Maple Pecan Cranberry Cookies bring the right amount of charm and sweetness to any Christmas party or cookie tray. I dipped these in white chocolate, but milk or dark would be just as yummy!
Maple Pecan Cranberry Cookies
Ingredients
3 tbsp unsalted butter, at room temperature
3 tbsp Stonyfield organic Greek nonfat yogurt, plain
1/4 c light brown sugar, packed
1/4 c dark brown sugar, packed
1/4 c pure maple syrup
1 lg egg, at room temperature
1 tsp pure vanilla extract
1/2 tsp Kosher salt
1 c + 5 tbsp all-purpose flour
1 c dried cranberries
1-1/4 c pecan halves, chopped & divided
3/4 c Ghirardelli Candy Making & Dipping Melting Wafers
Instructions
Preheat oven to 350 degrees F. Line two cookie sheets with a Silpat and set aside.
Using a stand mixer with the paddle attachment, cream the butter, yogurt, both sugars and maple syrup for 2 minutes, until light and fluffy. Add the egg, vanilla extract and salt and beat for an additional minute. Turning the mixer to low, add in the flour and mix only until the flour is incorporated.
Fold in the cranberries and 1 cup of chopped pecans, then scoop cookie dough onto prepared cookie sheets using a 2 ounce cookie scoop.
Bake cookies for 10-12 minutes, or until they turn a light, golden brown. Remove sheets from oven and let cookies cool for an additional 10 minutes. Transfer cookies to a wire rack to cool completely. When cool, microwave in 10-second bursts the candy making & dipping wafers, stirring in-between each heating to ensure it doesn't burn.
Dip each cookie half-way, placing them on a piece of wax paper. Sprinkle each with the remaining chopped pecans and let chocolate harden before serving.
http://mybakingheart.com/2016/11/30/maple-pecan-cranberry-cookies/
I was also surprised with a Silpat and a set of Levoons to use in creating these cookies. I've baked with Silpat baking mats for several years now and I love the convenience they provide and the way baked goods leave the oven. The Levoons are an amazing tool that I don't know how I've lived without until now. These measuring spoons (in 1/4 teaspoon, 1/2 teaspoon, teaspoon and tablespoon sizes) squeeze together to scrape a level and accurate measure. They snap together for space-saving nested storage, fan out for quick selection and easily pull apart for individual use. These are super-cool and (along with a platter full of these cookies!) would make a fab stocking stuffer!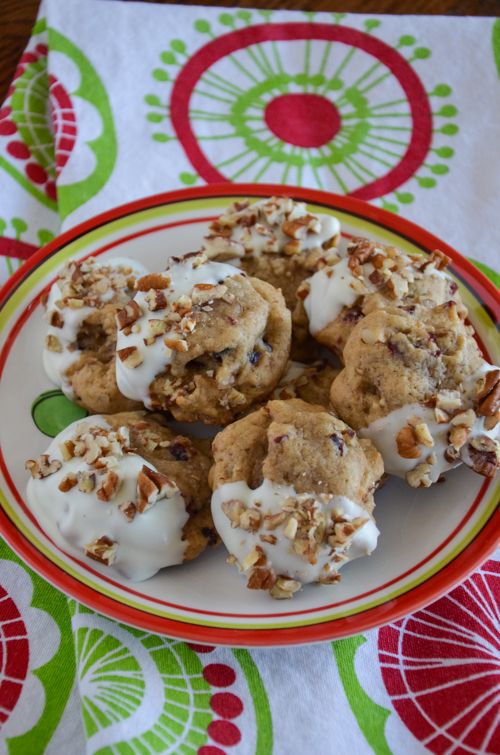 Disclosure: I am honored to be a member of the Stonyfield Clean Plate Club. Compensation was provided in the form of product and coupons by Stonyfield, Bob's Red Mill, Silpat & Dreamfarm; however, the photography & opinions expressed herein are solely those of the author.