Happy Halloween, dear friends! Spooky things are happening in the kitchen this week and I'm so excited to share these Monster Candy Cookies with you. I teamed up with my pals at Stonyfield and Unreal Candy to create something wickedly sweet and these tasty treats are just the ticket.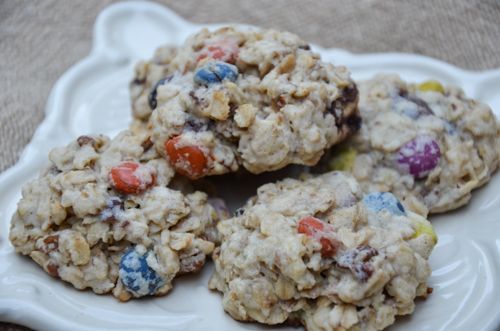 Unreal Candy's mission is not unlike Stonyfield's, in that ingredients are sustainably sourced and free of GMOs from second, third and even fourth-generation farms. Putting good food into your body leads to a healthier life and it's something I'm so much more aware of these days. I love the branding they stamp on the bottom of their peanut butter cups, too… adorable, right?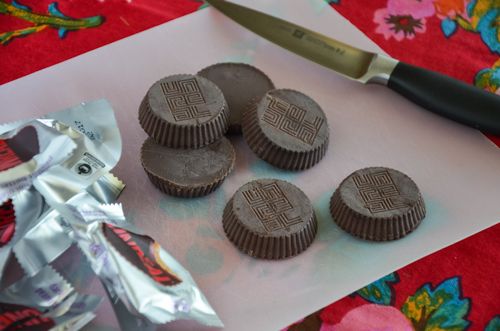 Ingredients
3 c old-fashioned oats
1/2 c pecans, chopped
1/2 c Unreal dark chocolate peanut butter cups, chopped
1/2 c Unreal candy-coated milk chocolates
7 tbsp unsalted butter, at room temperature
1/3 c Stonyfield Organic Greek yogurt, plain
3/4 c light brown sugar, packed
1/4 c granulated sugar
1 lg egg
1/4 tsp Kosher salt
1 cup all-purpose flour
Instructions
Preheat the oven to 375 degrees F and line two baking sheets with parchment paper; set aside.
In a large bowl, combine the oatmeal, pecans and candies, mixing together.
Using a hand mixer and another large bowl, beat the butter at medium speed until smooth, about 2 minutes. Add the yogurt and both sugars and beat for another 3 minutes, or until creamy. Add the egg and salt and beat until well blended. Reduce the mixer speed to low and add flour, mixing only until it is incorporated, then steadily add the oatmeal, nut & candy mixture. Stop the mixer when most of the oatmeal mix is blended into the batter and finish with a sturdy rubber spatula, making sure to get up any dry ingredient bits left at the bottom.
Scoop out large, rounded tablespoons of dough, packing them between your palms and arrange them on the baking sheets with about 1-1/2 inches between them. Flatten them slightly with your fingertips.
Bake for 10 to 12 minutes, or until cookies are golden brown but not firm. Let rest on the baking sheets for 1 to 2 minutes before transferring them to racks to cool to room temperature.
http://mybakingheart.com/2016/10/31/monster-candy-cookies/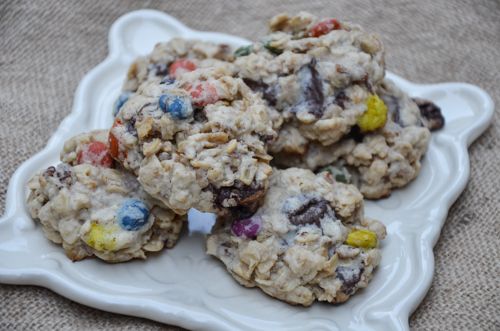 Disclosure: I am honored to be a member of the Stonyfield Clean Plate Club. Compensation was provided in the form of product and coupons by Stonyfield & Unreal Candy; however, the photography & opinions expressed herein are solely those of the author.