Since I brought my two new little ones home, it's been a whirlwind of diapers, feedings, loads of laundry and very little sleep. Everything is times two and twice as long. Any new mother can attest to the fact that within the first few months, it's all about survival. So, you can imagine how many times I've tried to sit down and write this post.
Between washing bottles and vacuuming the living room, I found a few minutes to bake up a batch of these Honey Pumpkin Peanut Butter Muffins. It felt great to get back into the kitchen, whisking ingredients and photographing the yummy results. And since my favorite time of year is here again, it was a no-brainer to include pumpkin. Stonyfield's Greek yogurt and Justin's Honey Peanut Butter complemented the pumpkin so well and I can't wait to make these again.
They turned out so perfectly, that, speaking from experience, they make a great snack when you've got two or three minutes to eat… even if it's at 2:30 in the morning, in between feedings!
Honey Pumpkin Peanut Butter Muffins
Ingredients
1-3/4 c all-purpose flour
1-1/4 c granulated sugar
1 tbsp baking powder
1 tsp ground cinnamon
1/2 tsp ground nutmeg
1/2 tsp Kosher salt
1 c unsweetened, canned pumpkin
1/2 c Stonyfield Organic Greek yogurt
1/4 c water
2 lg eggs
1 tsp pure vanilla extract
1/3 c Justin's Honey Peanut Butter
Instructions
Preheat oven to 375 degrees F. Line a muffin pan with paper liners and set aside.
In a large bowl, whisk together the flour, sugar, baking powder, cinnamon, nutmeg and salt. In a medium bowl, whisk together the pumpkin, yogurt, water, eggs, vanilla extract and peanut butter. Combine the dry ingredients with the wet ingredients a little at a time, mixing until combined.
Evenly spoon muffin batter into the paper liners. Bake for 22 minutes or until a toothpick inserted into the center of a muffin comes out clean. Let cool for five minutes, then remove to a wire rack to cool completely.
http://mybakingheart.com/2016/09/07/honey-pumpkin-peanut-butter-muffins/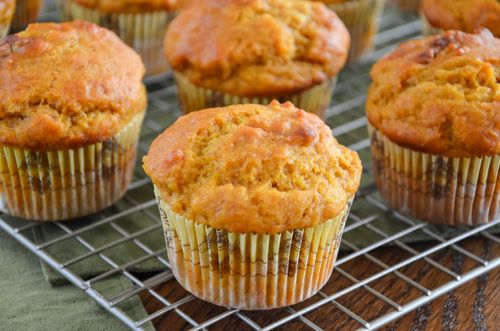 Disclosure: I am honored to be a member of the Stonyfield Clean Plate Club. Compensation was provided in the form of product and coupons by Stonyfield & Justin's Peanut Butter; however, the photography & opinions expressed herein are solely those of the author.