When OXO asked if I'd create a bowl filled with fresh inspiration, I knew it'd be one featuring venison. Chris shot a beauty this past Fall and we've reaped the benefits ever since with a freezer full of meat. So, when a happy package filled with new tools arrived on my doorstep, I couldn't wait to test them out!
The Ground Meat Chopper & Turner has three wide blades to help chop & stir ingredients without having anything get stuck in between. It's silicone edge is great for scraping the sides of the pan without scratching your cookware and transferring food when it's ready is a breeze. It breaks up ground meat perfectly!
Since I started MBH back in 2008, I've tried my fair share of choppers. But with OXO's Vegetable Chopper with Easy Pour Opening, I've found the perfect one. It quickly and safely chops veggies and fruits in one easy motion. With the back opening, you can easily pour the contents out without removing the lid. The stainless steel blade pattern and recessed cutting area keeps food in place while the lid provides leverage for efficient chopping. And I love the removable grid that helps clean between the teeth of the chopper. No more spending half an hour removing onion peels with a toothpick!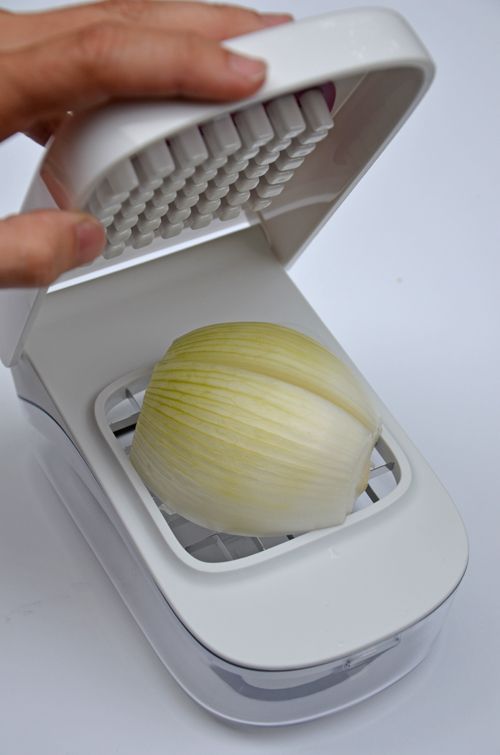 Their Silicone Ladle is a new favorite of mine, as well. It's ideal for stirring and serving soups and sauces, of course; but the beauty is in the combined heat resistance and non-stick genius with flexible edges. They're designed to easily scrape contents from pots and pans for efficient serving and clean-up and they do just that!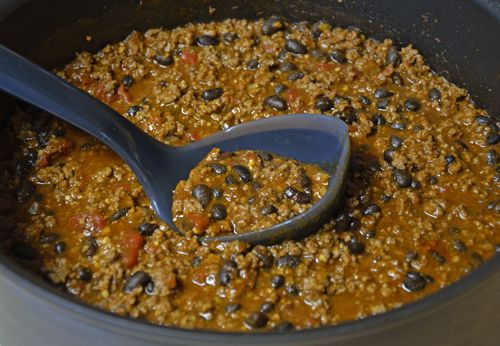 We love serving this Black Bean Venison Chili "bar-style" when having friends and family over. All taste buds are satisfied when everyone can create their own bowl. There are rarely leftovers, but when there are, this makes for a great lunch the next day!
Ingredients
For the Chili:

2 lbs ground venison
1 tbsp vegetable oil
1-1/2 c onion, chopped
2 tbsp fresh garlic, minced
1/4 c chili powder
1 tbsp ground cumin
1 tsp dried oregano leaves, crushed
1 tsp dried thyme leaves, crushed
2 (28 oz) can diced tomatoes, undrained
2 (15 oz) cans black beans, rinsed & drained

For the Chili Bar:

Fritos Corn Chips
Chopped onions
Chopped green onions
Sliced grape tomatoes
Fresh cilantro
Sour Cream
Shredded Cheese
Instructions
Brown ground venison in stockpot over medium heat for 8 to 10 minutes or until venison is no longer pink, breaking up into 3/4-inch crumbles. Remove from stockpot with slotted spoon. Set aside and pour off drippings. Heat oil in same stockpot over medium heat until hot. Add onions and garlic; cook and stir 3 to 5 minutes or until onions are tender.
Return venison to stockpot. Add chili powder, cumin, oregano and thyme; cook and stir for 2 to 3 minutes. Stir in diced tomatoes and bring to a boil. Reduce heat; cover and simmer 15 to 20 minutes. Uncover stockpot; continue simmering 5 to 10 minutes more, or until thickened to desired consistency, stirring occasionally. Stir in beans; cook 5 to 10 minutes or until beans are heated through. Season with salt and black pepper, as desired. Garnish with toppings from your Chili Bar, if desired.
http://mybakingheart.com/2016/04/25/black-bean-venison-chili/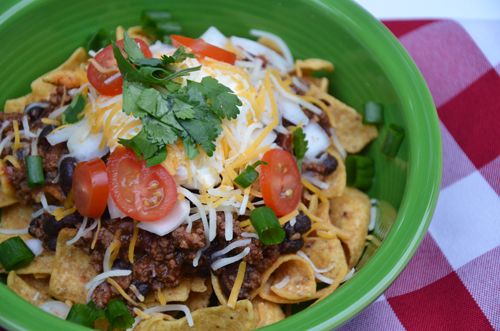 Disclosure: This is a sponsored opportunity & product was provided by OXO; however, the photography & opinions expressed herein are solely those of the author.