I have fond memories when it comes to Ball brand jars. My grandmother used them when canning jams and jellies, storing leftover sauces and of course, Momma G's been drinking tea from them since I was crawling. So, I was extremely excited when Stonyfield partnered with Ball Canning for a "New Year on the go" campaign. I've been incredibly tired in the mornings, so it's really easy to grab one of these on my way out the door. They're ready to go and I've got something nutritious and delicious to heat up at lunch.
5-Layer Loaded Mashed Potatoes
Ingredients
4 c prepared mashed potatoes
1/2 c Stonyfield Organic nonfat Greek yogurt, plain
12 slices of cooked bacon, crumbled
1-1/2 c shredded cheddar cheese
1/4 c green onions, sliced
Instructions
In a 16 oz, wide mouth Ball Canning pint jar, layer approximately 3/4 cup of mashed potatoes, 3 tablespoons of green onions, 3 tablespoons of crumbled bacon, 1/4 cup of shredded cheese and a dollop or two of Stonyfield Organic nonfat plain Greek yogurt. Serve and enjoy!
http://mybakingheart.com/2016/01/31/5-layer-loaded-mashed-potatoes/
These individual servings are perfect for game nights, showers, picnics or Super Bowl parties. Just keep your potatoes warming in a crock-pot next to your toppings and everyone can create their own jar!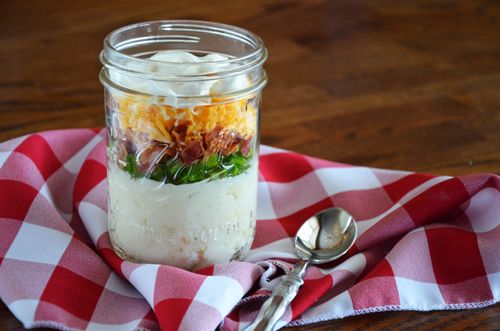 Disclosure: I am honored to be a member of the Stonyfield Clean Plate Club. Compensation was provided in the form of product and coupons by Stonyfield and Ball Canning; however, the photography & opinions expressed herein are solely those of the author.