I will forever declare my love for all things pumpkin… creamy lattes, sweet-smelling candles and fresh-from-the-oven baked goods. The national pumpkin craze may have lost its shine, but in my house, it's full-steam ahead! And this Pumpkin Bread Pudding? It's no exception.
Instead of milk, cream or half & half, I subbed Stonyfield's Smooth & Creamy Lowfat Yogurt in French Vanilla. This good-for-you ingredient made for a richer custard and an added sweetness (but not too sweet!) from the extra vanilla. It was perfect after the turkey and dressing, but I've also enjoyed the leftovers I've been reheating in the microwave these past few days. 'Dessert for breakfast' is totally a thing now.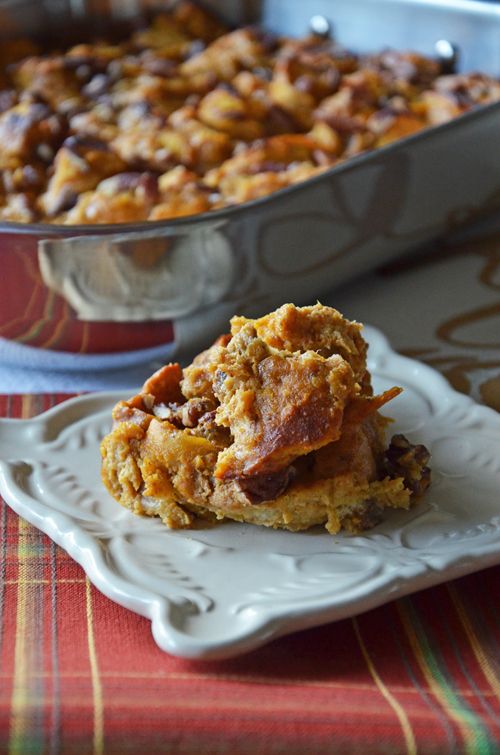 Ingredients
10 c day-old bread, cut into 1-inch cubes
1 c coarsely chopped pecans, divided
4 lg eggs, lightly beaten
1-1/2 c pure pumpkin puree
3 c Stonyfield Smooth & Creamy Yogurt, Lowfat French Vanilla
8 tbsp unsalted butter, melted and cooled
1 c light brown sugar, packed
1 tsp pure vanilla extract
1 tsp ground cinnamon
1/2 tsp ground ginger
1/4 tsp ground cloves
1/2 tsp Kosher salt
Instructions
Preheat oven to 350 degrees F. Spray a 13x9-inch baking pan with non-stick spray and set aside.
In a large bowl, whisk together the eggs, pumpkin, yogurt, melted butter, brown sugar, vanilla, spices and salt. Add the bread cubes and half of the pecans, tossing to coat, making sure all the bread cubes are coated with the custard.
Transfer the bread pudding to your prepared pan and sprinkle the remaining pecans on top. Bake for about 30 minutes, or until a toothpick inserted into the center just comes out clean. Remove from the oven and place on a wire rack to cool slightly. Serve warm.
http://mybakingheart.com/2015/11/30/pumpkin-bread-pudding/