Happy Halloween, dear readers! We're smack dab in the middle of Fall, the season of cozy spices, smooth pumpkin and gathering over family feasts. This Pumpkin Granola Cheesecake combines just that and is a perfect adornment on the dessert table. It's rich and warm, with a crunch from the granola and a smooth finish with the dark chocolate bark. So lovely!
Nature's Path Pumpkin Flax Granola is a delicious and crunchy blend of oats, pumpkin seeds, flax seeds, cinnamon and molasses. And their Qi'a Superfood Cereal is gluten-free, combining Chia seeds, Hemp and Buckwheat. Both are full of plant-based protein, fiber, whole grains & ALA Omega-3s. Add Stonyfield's Organic nonfat Greek yogurt to the mix and you've got a feel-good sweet treat on your hands!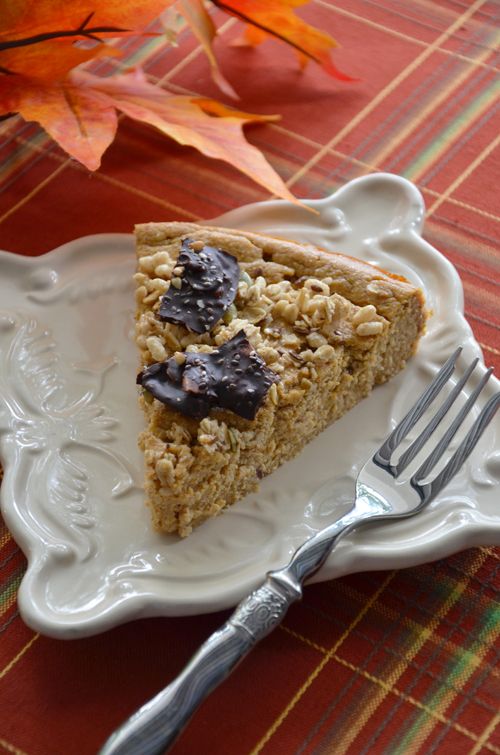 Pumpkin Granola Cheesecake
Ingredients
For the Qi'a Dark Chocolate Cranberry Bark:

12 oz good quality, organic dark chocolate (at least 70%), finely chopped
3/4 c Nature's Path Qi'a Cranberry Vanilla, divided
1 c sliced almonds, toasted
1/4 tsp Kosher salt

For the Cheesecake:

1/2 c reduced-fat cream cheese, room temperature 

2 c low-fat ricotta cheese
3/4 c pure pumpkin
 puree
1/2 c Stonyfield Organic nonfat Greek yogurt, plain

3 egg whites
1/4 c all-purpose flour 

1/2 c granulated sugar
2 tsp pure vanilla extract
1 tsp pumpkin pie spice
1 tsp ground cinnamon

1/2 tsp baking powder 

1/4 tsp Kosher salt
1/4 tsp ground nutmeg
Nature's Path Pumpkin Flax Granola, for topping
Qi'a Dark Chocolate Cranberry Bark, for topping
Instructions
For the Qi'a Dark Chocolate Cranberry Bark:
Line a 9x13-inch pan with parchment paper so it overhangs the ends. Reserve 2 tbsp Qi'a for sprinkling on top of the bark. Place the chocolate in a heatproof bowl set over a saucepan of barely simmering water, stirring occasionally, until melted. Remove from heat. Stir in the remaining Qi'a and almonds.
Pour onto prepared pan and spread evenly. Sprinkle with the reserved Qi'a and sea salt (if using). Refrigerate for 1 hour or until chocolate is set. Remove from pan and peel off the parchment paper. Break the bark into pieces and store in an airtight container for up to 1 week. (Created for Nature's Path by The Hot Plate)
For the Cheesecake:
Preheat oven to 325 degrees F. Spray a 9" springform pan with nonstick spray. Wrap foil around the bottom of the pan to prevent condensation from dripping into the oven.
In a large bowl with an electric mixer set to medium speed, beat cream cheese until smooth. Add ricotta cheese and pumpkin, beating until smooth, about 1-2 minutes. Continue to beat, while gradually adding all remaining ingredients except Pumpkin Flax Granola and Qi'a chocolate bark. Beat until smooth, another 1-2 minutes. Evenly pour mixture into the cake pan and bake until firm and light golden brown, about 50-60 minutes.

Let cool completely, about 1 hour, then refrigerate until chilled, at least 3 hours. 

Sprinkle with Pumpkin Flax Granola and top with small pieces of Qi'a chocolate bark.. Release springform, slice and serve.
Notes
Great to make ahead of events, as the cheesecake needs at least 1 hour to cool, plus 3 hours of chill time!
http://mybakingheart.com/2015/10/31/pumpkin-granola-cheesecake/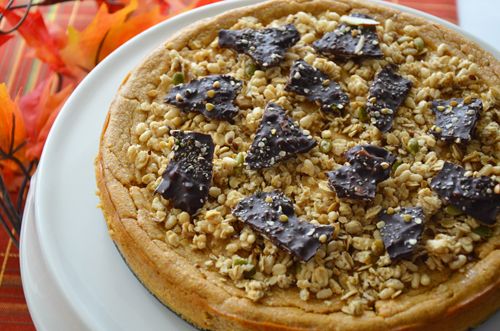 Disclosure: I am honored to be a member of the Stonyfield Clean Plate Club. Compensation was provided in the form of product and coupons by Stonyfield and Nature's Path; however, the photography & opinions expressed herein are solely those of the author.