OXO is once again supporting Cookies for Kids' Cancer and I'm so honored that they've asked me to participate again this year, as they spread the word about this awesome program!
Cookies for Kids' Cancer was founded by two OXO employees who were inspired by their son Liam's battle with pediatric cancer, a disease which claims the lives of more children in the US than any other disease. They're a recognized 501c(3) public charity duly incorporated under the laws of the state of New Jersey, where your donations are tax deductible to the fullest extent allowable by law. 100% of proceeds raised by Cookies for Kids' Cancer fund pediatric cancer research and provide inspiration & support to allow anyone to easily get involved in fundraising to find a cure for pediatric cancer. The news of Liam's diagnosis hit OXO hard and they've been personally involved with this worthy organization from the beginning. As a formal show of support, in 2015, OXO will donate up to $100,000 through product proceeds, bake sale matches and other fundraising efforts to support Cookies for Kids' Cancer. And during the month of October, they're donating $100 for each blog post specially dedicated to this campaign.
In the last few years I've been a part of this program, I've baked up batches of Flourless Peanut Butter-Chocolate Chip Cookies, Pumpkin Spice Brookies, Dark Chocolate & Pecan Brownie Cookies and now these Cinnamon Chip-Pumpkin Granola Cookies! Warm, Fall flavors such as cinnamon, nutmeg and allspice blend perfectly with the crunch of the Pumpkin Flax Granola. These cookies are definitely a crowd pleaser, so don't be surprised if you're handing out the recipe to family and friends!
Keep an eye out for the cookie recipes that OXO has already pinned to their Good Cookie Pinterest board! So many yummy recipes, so little time!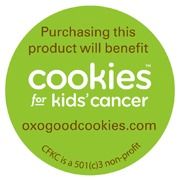 And while you're doing your shopping this holiday season, look for specially stickered items at participating retailers – for every stickered item sold, OXO will donate 25 cents in support of pediatric cancer research as part of its $100,000 pledge to Cookies for Kids' Cancer! The pieces I received in OXO's Cookie Set are some of the best! Their Non-Stick Half Sheet Pan, Medium Cookie Scoop and Cookie Spatula work wonders in the kitchen. In fact, I often use the Cookie Scoop when making cupcakes!
Cinnamon Chip-Pumpkin Granola Cookies
Ingredients
8 tbsp unsalted butter, at room temperature
1/4 c granulated sugar
3/4 c light brown sugar, firmly packed
1 lg egg
1 tsp pure vanilla extract
1-1/4 c + 2 tbsp all-purpose flour
3/4 tsp baking powder
1/2 tsp baking soda
1/4 tsp Kosher salt
1/2 tsp pumpkin pie spice
1 tsp ground cinnamon
1 c cinnamon chips
Instructions
Preheat the oven to 360 degrees F. Line a cookie sheet with parchment paper.
Using a hand or stand mixer, cream the butter, granulated sugar, and brown sugar together on medium-high speed for 3 minutes, until nice and fluffy. Beat in the egg and vanilla, mixing for 2 minutes. Reduce the mixer speed to medium-low and add the flour, baking powder, baking soda, salt, pumpkin pie spice and cinnamon. When the cookie dough has absorbed the dry ingredients, stir in the granola and cinnamon chips and mix until they are well distributed.
Drop 2 tablespoons of dough (or use a medium cookie scoop) onto the cookie sheet for each cookie, spacing them 2 inches apart. Bake for 15 minutes, or until the edges are nice and golden brown. Remove the cookie sheet from the oven and allow the cookies to cool for 2 minutes. Then slide the parchment paper, with the cookies still on top, onto a wire rack to cool completely.
http://mybakingheart.com/2015/10/29/cinnamon-chip-pumpkin-granola-cookies/

Disclosure: I have partnered with OXO to help promote their participation with 'Cookies for Kids' Cancer'. I was compensated with a set of cookie-baking tools by OXO. However, opinions are entirely my own and I have not been paid to publish positive comments.