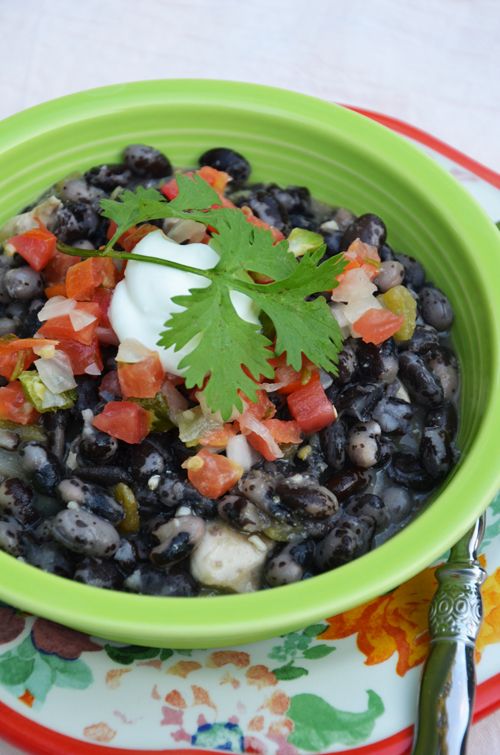 Like it or not, Fall is here! Personally, it's my favorite time of year, so I'm over-the-moon that I can drag out the autumnal decorations, spicy-scented candles and colorful scarves and start baking allthepumpkinthings. While it's not full-on Autumn weather, the temps have a slight coolness to them here in North Texas… which is perfect for me, as I've enjoyed sitting down to several bowls of this Orca Bean Chicken Chili.
After I opened up a box of these black & white speckled beans from my friends at Bob's Red Mill, I knew exactly what I'd make with them. They give off a mild flavor and are full of iron and fiber, just perfect for soups and this chili. The end result was rich and warm, with a touch of spice. And being that I'm smack dab in the middle of an AdvoCare 10-Day Cleanse, this is terrific for lunches and dinners (protein power)!
Ingredients
1 (22 oz) pkg Bob's Red Mill Orca Heritage Beans
1 tbsp canola oil
1 lb boneless, skinless chicken breasts, cut into bite-sized pieces
3/4 tsp Kosher salt, divided
1/2 c vertically-sliced onion
2 tsp minced fresh garlic
2 tsp ground cumin
1 tsp ground coriander
1/2 tsp dried oregano
1/4 tsp ground red pepper
1 c water
2 (4 oz) cans chopped green chiles, undrained and divided
1 (14 oz) can fat-free, lower-sodium chicken broth
1/4 c cilantro leaves
Pico de gallo, for topping
Stonyfield Organic Greek Plain Nonfat Yogurt, for topping
1 lime, cut into 8 wedges
Instructions
Sort and rinse orca beans in a colander. Place in a large stockpot with 12 cups of water. Cover and bring to a boil. Reduce heat to medium-low and cook until beans are tender and have doubled in size, about 1 hour. Add more water as needed while cooking, to keep beans covered. Once done, drain beans and reserve for chili.
Heat a Dutch oven over medium-high heat. Add oil. Sprinkle chicken with 1/4 teaspoon salt. Add chicken and sauté for 4 minutes. Add onion and the next 5 ingredients, sautéing for about 3 minutes. Add beans, water, 1/2 a teaspoon of salt, 1 can of chiles and broth; bring to a boil.
Mash 1 cup of beans and 1 can of chiles in a small bowl. Add to soup, simmering for 5 minutes. Serve with cilantro, pico de gallo, Stonyfield Greek yogurt and lime, if desired.
Adapted from: MyRecipes.com
http://mybakingheart.com/2015/09/25/orca-bean-chicken-chili/

Disclosure: I am honored to be a member of the Stonyfield Clean Plate Club. Compensation was provided in the form of product and coupons by Stonyfield and Bob's Red Mill; however, the photography & opinions expressed herein are solely those of the author.