It's always exciting when a delivery of Late July Organic chips lands on my doorstep. I've been a fan of theirs since I first tried their flavors last year. Not only are they really tasty, they're Certified USDA Organic, Non-GMO, allergy-friendly and gluten-free, leaving out peanuts, tree nuts, soy and sesame. Five of their seven flavors are Vegan and they lightly salt their chips, so you don't have to worry about high levels of sodium. The only problem is that I haven't been able to find them down here in Texas. Guess it's time to plan a trip up north…
Ready for the dip we paired our delivery with? This Onion Dip from Stonyfield was the perfect appetizer to serve at our July 4th celebration. The Greek yogurt keeps it light, not too filling and produces an amazing taste with the Sea Salt Seashore Multigrain chips. Wonderful for showers and parties or just for lounging by the pool!
Ingredients
1/2 fresh, small sweet or Vidalia onion, grated
1/4 tsp garlic powder, give or take for taste
1/4 tsp white wine vinegar, give or take for taste
1 tbsp extra-virgin olive oil
1 tbsp chives, chopped
1 tbsp fresh parsley, chopped
Salt and white pepper to taste
Instructions
In a medium-size bowl, mix together onion, garlic powder, vinegar, salt, pepper, olive oil, chives and parsley. Add yogurt and gently fold.
Spoon into serving bowl and refrigerate for 2-4 hours, or overnight. This allows flavors to combine. Before serving, garnish with fresh parsley, if desired
http://mybakingheart.com/2015/07/08/mona-lisa-onion-dip-with-stonyfield-late-july-organic-snacks/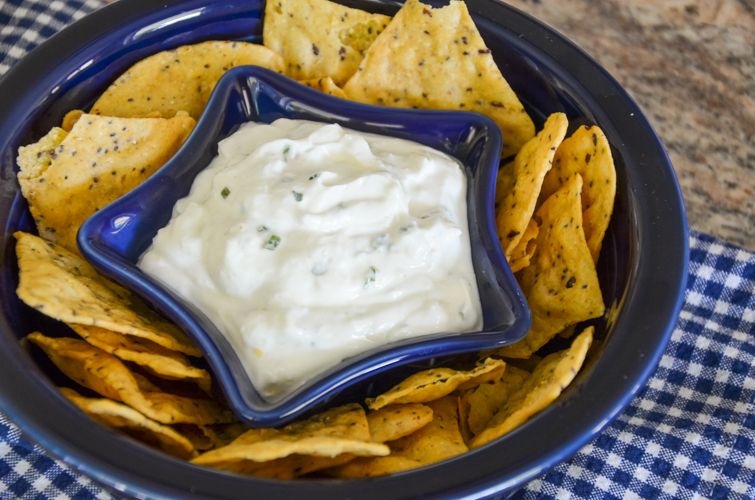 Disclosure: I am honored to be a member of the Stonyfield Clean Plate Club. Compensation was provided in the form of product and coupons by Stonyfield and Late July; however, the photography & opinions expressed herein are solely those of the author.