Disclosure: Compensation was provided by Nestlé Coffee-mate® via Mode Media. The opinions expressed herein are those of the author and are not indicative of the opinions or positions of Coffee-mate®.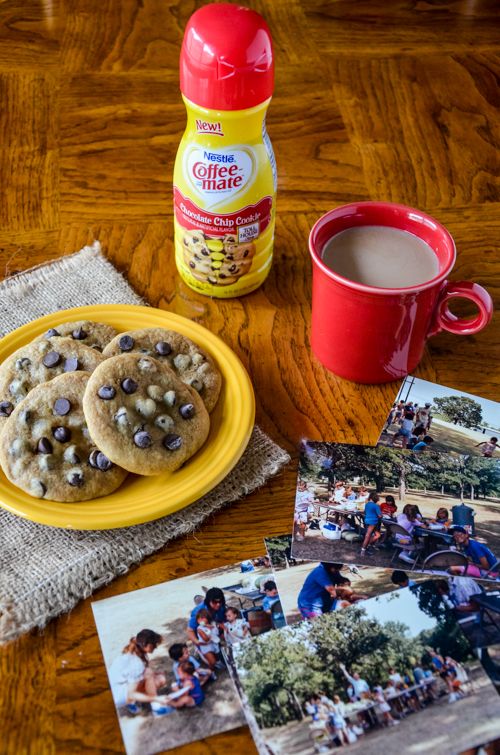 With summer in full swing, it's time for Vacation Bible School. Each morning as I make my social media rounds, I see more and more posts about the different themes and activities that my friends have planned for their respective church's VBS. With every one of those posts, I'm reminded of the wonderful times I spent with my classmates and late priest, Father Garrard, at VBS when I was younger. We'd read bible verses, play games, color maps and swim until our toes were wrinkly. And after lunch, my mom would pass out little bags of homemade chocolate chip cookies (tied with pretty ribbons, of course), so that each kid felt extra special. We'd carry them around like trophies, some not even making it home before they'd devoured all inside!
This past Sunday morning, I arrived home from church ready to reminisce on a box of old photos I'd found earlier in the week. I poured a cup of coffee and added a couple of tablespoonfuls of Coffee-mate Toll House Chocolate Chip Cookie, not knowing that the first envelope I'd open included photos from VBS in 1987. Since chocolate chip cookies were always a big part of those summers, it was such a happy coincidence that my fridge has been stocked with Coffee-mate Toll House Chocolate Chip Cookie, as of late. In fact, I'm really looking forward to recreating those 'chocolate chip moments' with my nephew and his VBS classmates next month!


This summer,
Nestlé Coffee-mate®
is celebrating the sweetest form of nostalgia with their exclusive range of fun, exciting flavors that evoke delicious memories and emotions of the past. These sweet throwback flavors include Toll House® Chocolate Chip Cookie, Caramel Macchiato and Classic Vanilla.