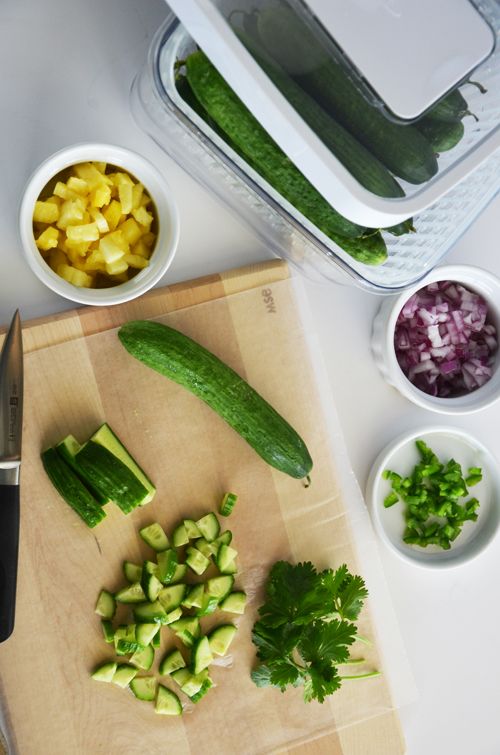 It's astounding that more than 25% of the fresh fruits and vegetables purchased by U.S. consumers are wasted annually before being consumed. And I'm ashamed to admit that I've been one of those to throw away that rotten and slimy lettuce from time to time. After bringing home my groceries, most of the produce I've bought tends to remain in the plastic bags or containers that it's originally packaged in. And because of that, those gorgeous, brightly-colored fruits and veggies are actually going bad faster.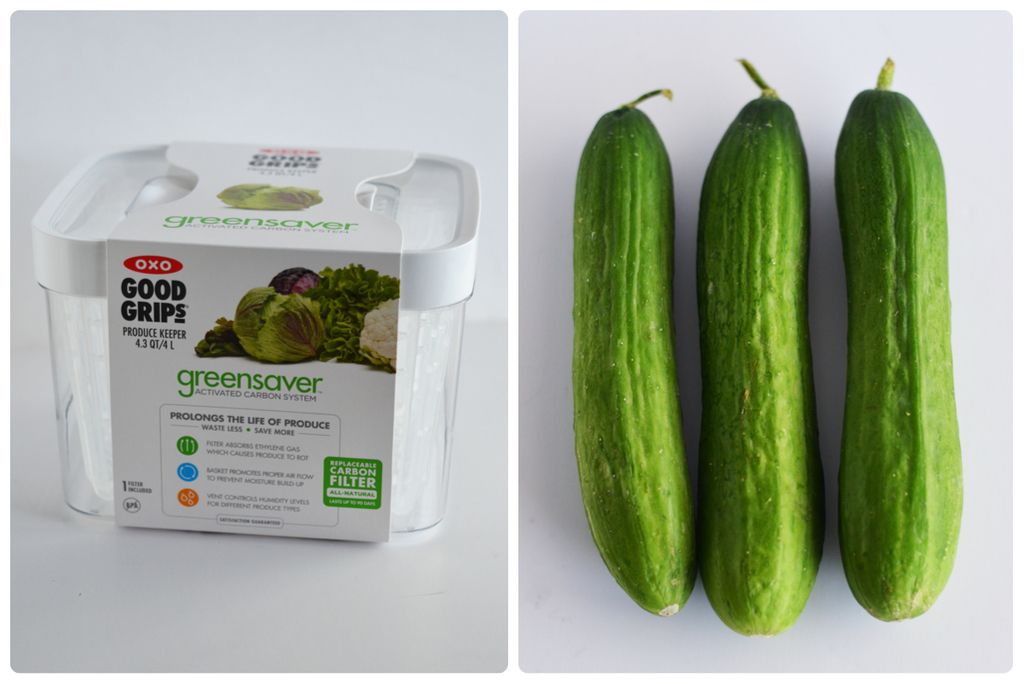 There are three main reasons produce rots and spoils quickly: ethylene gas, improper airflow and uncontrolled humidity levels. Fruits and vegetables give off ethylene gas and exposing produce to this gas speeds up the ripening process, causing it to over ripen and go bad. When produce rests against the walls of containers, bags or crispers, airflow is limited, causing moisture buildup and rotting. Fruits and vegetables also require the perfect balance of humidity to keep them crisp and prevent wilting. To make things more difficult, different kinds of produce require different humidity levels to stay crisp.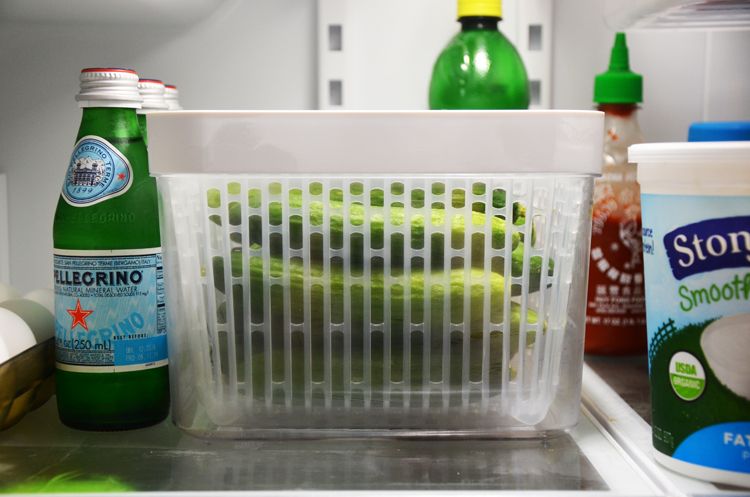 Enter the OXO GreenSaver Produce Keeper. The GreenSaver line of products uses a unique system to keep produce fresher, longer. Using activated carbon filters, ethylene gas is absorbed like the way a sponge absorbs water. Activated carbon is filled with nooks and crannies that trap and hold ethylene gas so that the gas given off by your produce is absorbed and held by the filter instead of being re-absorbed by the produce. The filters are made from coconut husks, making them safe, all-natural and non-toxic! Just replace them every 90 days for the freshest fruits and veggies around.
The Produce Keeper also features an elevated basket and an adjustable vent. The removable basket promotes proper airflow, helps prevent rotting and can also be used as a colander to rinse your produce in before enjoying. The vent on top of each lid slides open and closed to maintain optimum humidity levels for different types of produce, keeping them crisp and fresh. The nifty chart below tells you which fruits and veggies need the lid open and which ones need it closed.
For more information about how GreenSaver works, venting guidelines, activated carbon packet refill reminders and more, just click over to greensaver.oxo.com!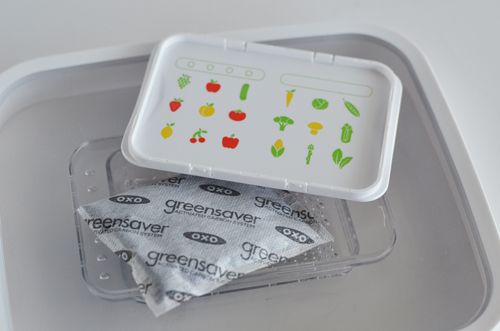 I had the privilege of testing out the 4.3 qt GreenSaver Produce Keeper, which is the perfect size for heads of lettuce, broccoli and medium-sized fruits. I filled mine with a bushel full of Melissa's Mini Cucumbers and patiently kept an eye on them. The GreenSaver takes up minimal space in my fridge and after two weeks, the cucumbers continue to look like they've just been picked from the farm. The Pineapple-Cucumber Salsa recipe below is one I've had on my to-do list for a while, so when the cucumbers arrived on my doorstep, I knew exactly what I'd be making with them. This spicy and sweet salsa is yummy on it's own, but pairs well topped on grilled chicken, fish or crispy crab cakes.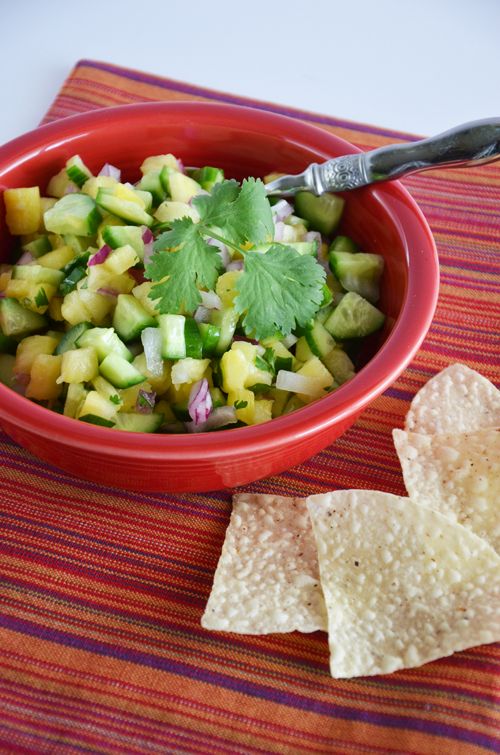 Ingredients
2 c fresh pineapple, diced
2 Melissa's Mini Cucumbers, diced
1/2 red onions, diced
1 jalapeño pepper, seeded and minced
1/4 c chopped fresh cilantro
1 tbsp fresh lime juice
1/8 tsp Kosher salt
Instructions
Stir together pineapple, cucumber, red onion, jalapeño pepper, cilantro, lime juice and Kosher salt. Cover and chill for 1 to 24 hours. Serve with chips, or as a garnish on grilled chicken or seafood.
http://mybakingheart.com/2015/05/28/pineapple-cucumber-salsa-with-oxo-greensaver-melissas-produce/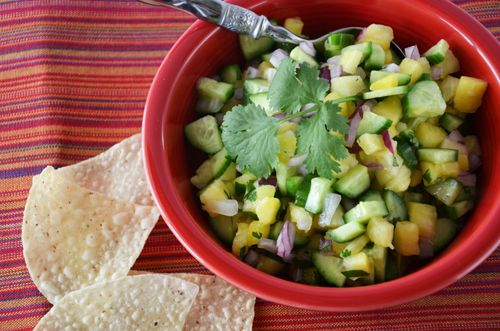 Disclosure: This is a sponsored opportunity & product was provided by OXO & Melissa's Produce; however, the photography & opinions expressed herein are solely those of the author.