Mint Juleps have been likened to air-conditioning in a glass. They're perfect on a sweltering day and they conjure up images of lazy afternoons in the South, rocking chairs, covered porches and handheld paper fans.
And since the 141st running of the Kentucky Derby is this weekend, what better way to celebrate than with a dignified libation? I put a little Texas twist on this Mint Julep, though, with the addition of cilantro and dark rum instead of the traditional bourbon. It's sweet, with a spicy twang, and after pairing one with a Lilly Pulitzer shift dress in her Just Add Mint print, I'm ready to bet the derby.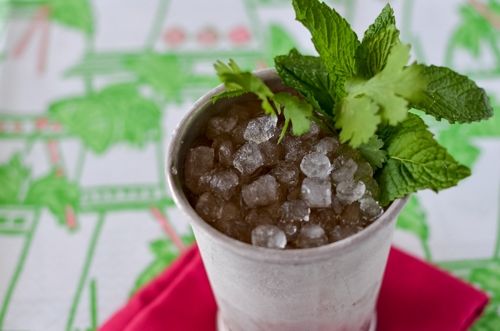 Ingredients
Sprigs of spearmint, plus extra for garnish
Handful of cilantro leaves, plus extra for garnish
1 oz simple syrup
2 c crushed ice
2 oz dark rum
Instructions
Muddle a mix of spearmint and cilantro leaves lightly to release the aroma and oils in the bottom of a pre-chilled silver or pewter julep cup, along with your syrup. Add about a cup of crushed ice. Next, add in your dark rum, giving it a good stir to frost the outside of the cup. Add more ice, if desired, and top with a garnish of spearmint & cilantro leaves.
http://mybakingheart.com/2015/05/01/texas-mint-juleps/