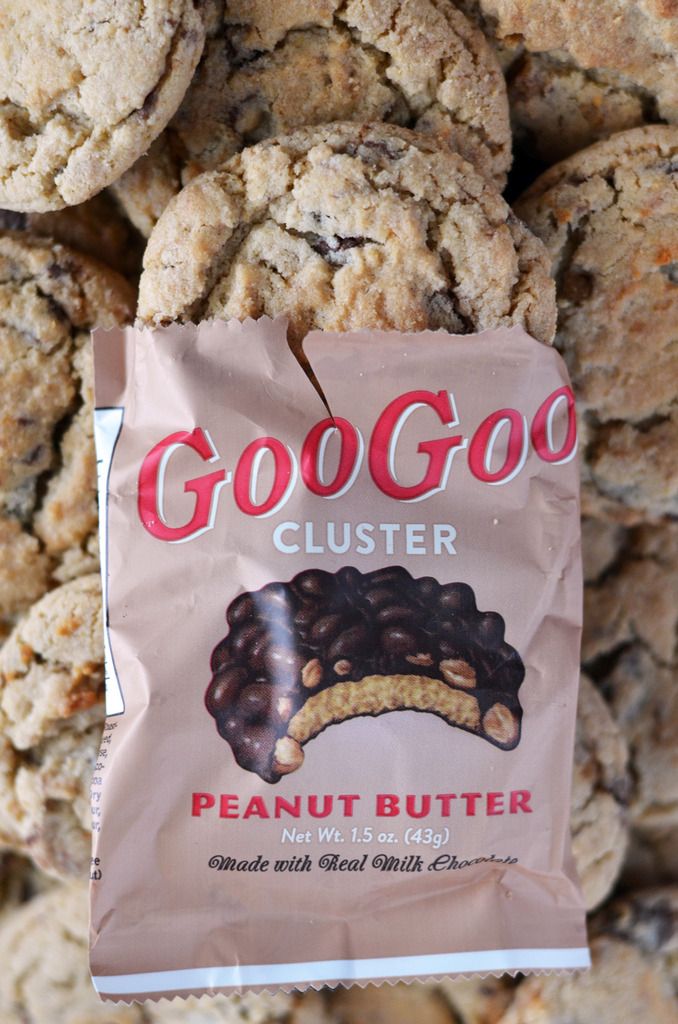 I can always count on a box of Goo Goo Clusters being tucked into the swag bags at Food Blog Forum. So, as I was coming down from my Disney high this past February, I made sure I was careful about rationing my sweet treats & eats… especially those three Peanut Butter Goo Goo Clusters nestled ever so snugly into my carry-on luggage.
To make them last as long as possible, I decided the best way to enjoy them was to sprinkle them into cookies! Alice Currah's Chocolate Chip Cookie recipe is one of my favorites, so I took her ingredients, scaled the recipe back by half and adapted it to include those three beautiful Peanut Butter Goo Goo Clusters just waiting to be devoured. These are now on my go-to cookie list and I can't wait for you to try them, too!
PB Goo-Goo Cluster Cookies
Ingredients
8 tbsp unsalted butter, at room temperature
1/4 c granulated sugar
3/4 c firmly packed dark brown sugar
1 lg egg
1 tsp pure vanilla extract
1-1/4 c + 2 tbsp all-purpose flour
3/4 tsp baking powder
1/2 tsp baking soda
1/4 tsp sea salt
3 Peanut Butter Goo Goo Clusters, chopped
Instructions
Preheat the oven to 360 degrees F. Line a cookie sheet with parchment paper.
Using a hand or stand mixer, cream the butter, granulated sugar, and brown sugar together on medium-high speed for 3 minutes, until nice and fluffy. Beat in the egg and vanilla, mixing for 2 minutes. Reduce the mixer speed to medium-low and add the flour, baking powder, baking soda and salt. When the cookie dough has absorbed the dry ingredients, stir in the chopped Goo Goo Clusters and mix until they are well distributed.
Drop 2 tablespoons of dough (or use a medium cookie scoop) onto the cookie sheet for each cookie, spacing them 2 inches apart. Bake for 15 minutes, or until the edges are nice and golden brown. Remove the cookie sheet from the oven and allow the cookies to cool for 2 minutes. Then slide the parchment paper, with the cookies still on top, onto a wire rack to cool completely.
Adapted from: Savory Sweet Life: 100 Simply Delicious Recipes for Every Family Occasion by Alice Currah
http://mybakingheart.com/2015/04/24/pb-goo-goo-cluster-cookies/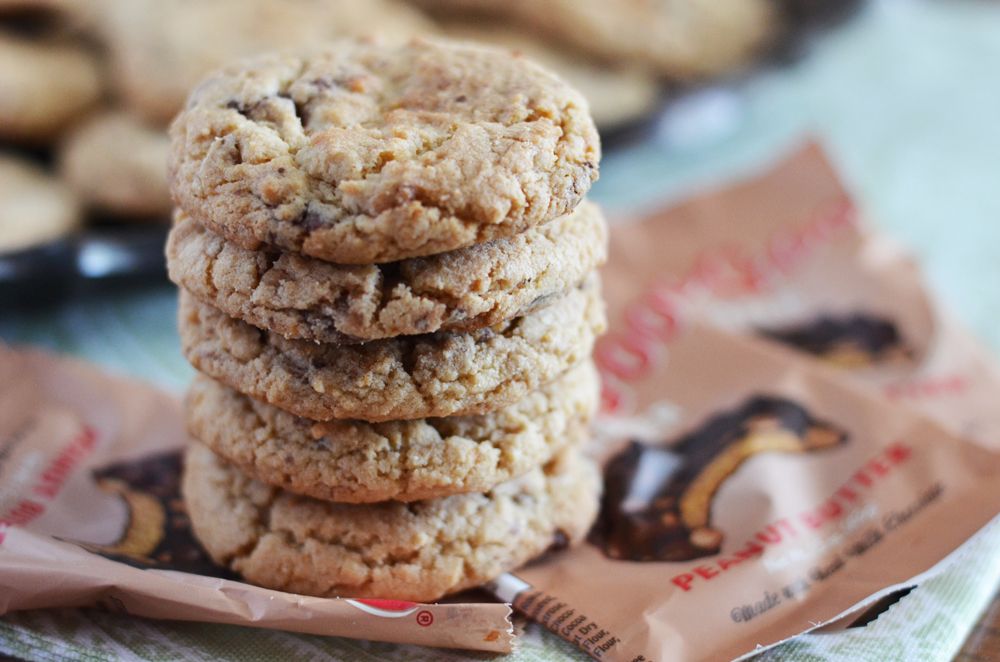 Disclaimer: Post is not sponsored, I just love Goo Goo Clusters and appreciate their donation to FBF's swag bags!