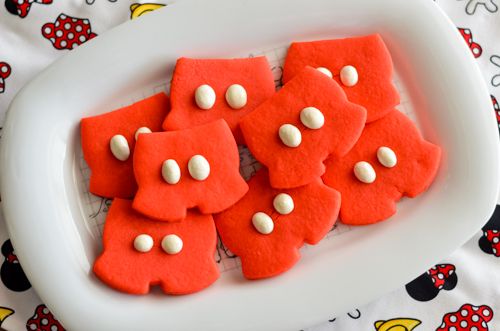 Oh boy, you guys! I'm super excited to share this post with you, as it's been a long time coming. When I recapped our #DisneySide @Home Celebration back in February, I promised you the recipe. Life has been a ride on the Mad Tea Party for the past couple of months, though; but now that things have settled down a little, I'm back with these adorable cookies!
I fell in love with these the first time I saw them and was determined to make a few batches for our February celebration. They're perfect for any Disney-themed party or just for adding a touch of magic to your child's lunchbox. The recipe is fairly simple and one that the kids can get involved with, as well. The red food coloring can get messy if you're not careful, so don't forget the plastic gloves! I use Wilton's No-Taste Icing Gel
to get the perfect shade of red and I found the iconic-shaped cookie cutter here. As Mickey says, "Hot Diggity Dog!"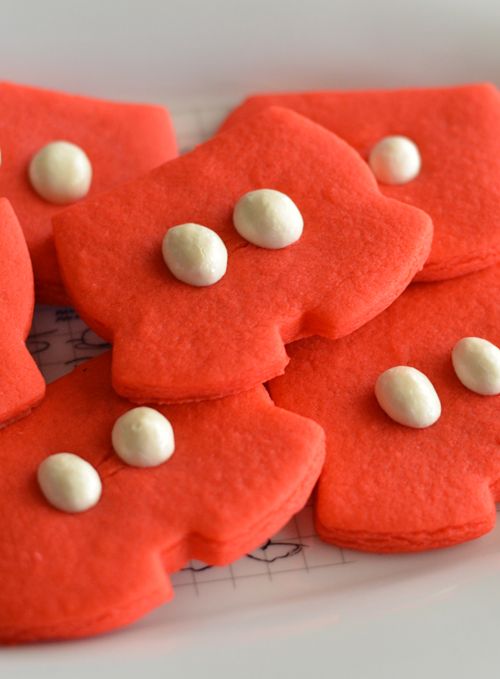 Mickey Mouse Sugar Cookie Shorts
Ingredients
1 c unsalted butter, at room temperature
1 c granulated white sugar
1 tsp vanilla extract
1/2 tsp almond extract
1 lg egg
2 tsp baking powder
3 c all-purpose flour
Red food coloring or Wilton Red (no-taste) Icing Color
1 (6 oz) bag yogurt-covered raisins
Plastic kitchen gloves
Instructions
Preheat oven to 350 degrees F. In the bowl of your mixer, cream butter and sugar until smooth. Beat in extracts and egg.
In a separate bowl, whisk together baking powder and flour, adding a little at a time to the wet ingredients. The dough will be very stiff. If it becomes too stiff for your mixer, turn out the dough onto a countertop surface. Wet your hands and finish off kneading the dough by hand. Once the dry ingredients are incorporated, place the plastic kitchen gloves on your hands and knead red food coloring into the cookie dough. Continue to add color until you get a bright red.
DO NOT CHILL THE DOUGH. Divide into workable batches, roll out onto a floured surface and cut. You want these cookies to be on the thicker side (closer to 1/4" rather than 1/8"). Add two yogurt-covered raisins to each pair of shorts, pressing slightly just enough for the "buttons" to stick in place.
Bake for 6-8 minutes. Let cool on the cookie sheet until firm enough to transfer to a cooling rack.
Sugar Cookie dough recipe adapted from: In Katrina's Kitchen
http://mybakingheart.com/2015/04/07/mickey-mouse-sugar-cookie-shorts/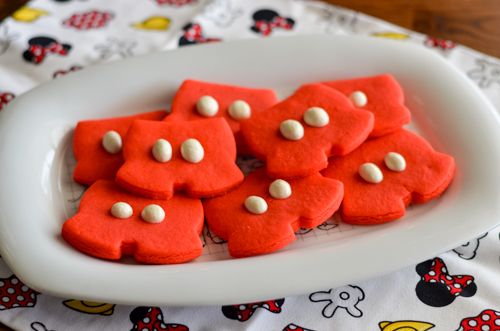 Disclosure: Affiliate links included.