It's no secret that I love OXO products. So when they offered to help organize my kitchen, I wholeheartedly said yes. It was just the push I needed to get 'Operation Spring Cleaning' on the move. And I was absolutely floored by the box of goodies that my Fed-Ex delivery man dropped off. Shown above, they ranged from a space-saving Foldaway Dish Rack to a sleek Expandable Utensil Organizer… which, in and of itself, has changed my life!
As you can see, my "baking" drawer was completely out of hand. I always remind myself that 'there's a place for everything and everything has it's place,' but it's obvious that my tools weren't nesting like they were meant to. With the help of this ingenious organizer, my drawer is in it's happy place once again! It expands from 9-3/4" to 16-1/4" to fit inside any kitchen drawer and non-slip feet help to keep the organizer in place. The included dividers are simple to adjust and with just a little pinch, they slide in and out!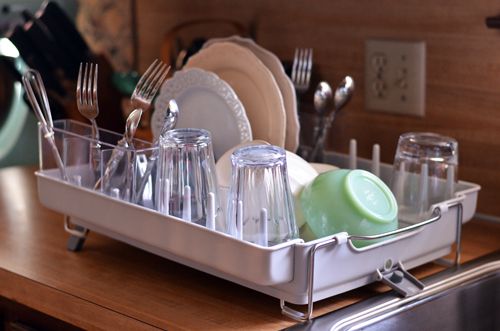 If you lack counter space like I do, then you need this tool in your life… trust me. OXO's Good Grips Foldaway Dish Rack is a convertible, convenient and compact dream. Features include an adjustable, fold-down plate rack that holds plates or bowls neat and upright, and when folded down, leaves the middle of the Dish Rack open to accommodate large bowls and cookware. The dishwasher-safe, divided utensil holders can withstand the forks, spoons and knives of a large dinner party and BONUS! are removable for easy unloading. The side walls, feet and spout of the Foldaway Dish Rack all fold for compact storage. And one of the best parts is that the tines hold cups, mugs and wine glasses inside the rack to prevent dripping on the counter… something I'm always annoyed with on other dish racks.
The next thing I tackled was the sink. It's not even two years old and I get the slightest chill when I see a scratch or a ding. Now I know I won't be able to keep it blemish-free, but with this Silicone Sink Mat, I can minimize the damage in the years to come! There are tiny feet that elevate the mat and allow for water flow and aeration. And if you want to have an opening around your drain, the convenient pattern allows you to cut a hole exactly where you need it, whether your drain is in the center or the back of your sink. It's also heat-safe, dishwasher safe and PVC free!
I'm also quite the fan of OXO's Magnetic All-Purpose Clips. They can go from home and office, to the garage or workroom. They feature soft, comfortable grips and can seal not only snack bags and frozen foods, but post notes and organize papers. The magnet on the back is super-convenient for storing on the fridge, which means there's always a clip in reach whenever I need one!
With OXO's help, I'm well on my way to sprucing up the kitchen this Spring. Now… who's going to help with the rest of the house?

Disclosure: This is a sponsored opportunity & product was provided by OXO; however, the photography & opinions expressed herein are solely those of the author.