Thirty years ago, Stonyfield co-founder Gary Hirschberg set out to make Stonyfield a truly sustainable business. And since then, they've led the way with countless innovations to reduce packaging… as in, after you eat the yogurt, you eat the cup, too. So it's with great excitement that I get to introduce you to Stonyfield Frozen Yogurt Pearls, a first-of-its-kind, delicious organic frozen yogurt dessert that also takes a giant step towards realizing that dream of a truly sustainable package.
Scoops of Stonyfield's decadent, organic and frozen nonfat yogurt are wrapped in a delicious, all-natural fruit coating, creatively inspired by how nature packages fruits and vegetables (like the skin of a grape). With melt-free and mess-free skins, these exquisitely delicious pearls are handheld and portable, opening up new possibilities for on-the-go snacking. They're portion controlled and only 20 calories each! Just think: no spoon, no cup, no limits!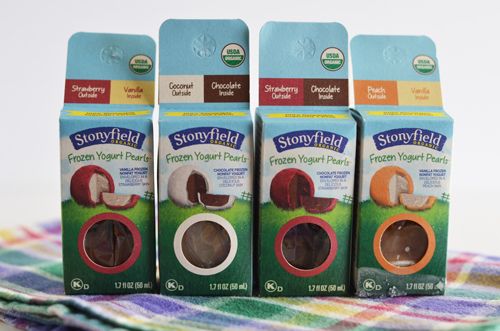 The patent pending (and award winning!) WikiPearl® technology creates a delicious, protective skin from natural food particles, which protects the yogurt from the outside, enabling it to be washed, carried and handled without being damaged. Stonyfield is proud to be collaborating with the inventors of this technology, Harvard professor Dr. David Edwards and his Cambridge-based company WikiFoods.
Available in Peach & Vanilla, Coconut & Chocolate, Strawberry & Vanilla and Strawberry & Chocolate, Stonyfield Frozen Yogurt Pearls can be found in the freezer aisle in Whole Foods Markets across New England. And if you're lucky enough to live in the Northeast, you can print the following coupon for 2 packs of Pearls for $6! Save 25%!

Disclosure: I am honored to be a member of the Stonyfield Clean Plate Club. I received product or coupons for writing this post, but all opinions are my own.