I don't think I'll ever be able to fully describe just how incredibly happy I get when the sight of that castle is in view. I can wax on about the magic of Disney, the VIP treatment that guests receive and the lifetime of memories that are made when walking down Main Street, U.S.A, but it simply comes down to this… I truly feel on top of the world when I'm visiting the Walt Disney Parks.
And now that I've been home and the dust from this past month has settled, I'm finally able to recap the magical time I had at Food Blog Forum 2015. I was lucky enough to attend the last Food Blog Forum hosted by Walt Disney World in 2013 (if you missed my recap, you can read it here – Food Blog Forum '13), so when plans were announced that they'd return this February, I immediately put it on the calendar and counted down the days until registration opened. It had sold out in 10 minutes the last time, so I fully expected tickets to go fast this round, as well. However, I never could've predicted that a sellout would only take 2 seconds (yes, you read that right).
Along with my blogger bestie, Kasey of Kasey's Kitchen, I lucked out once again and scored a family ticket (thanks to the help of a KK cohort on the East Coast and some very fast fingers). A dream vacation was in the works, as our very own Prince Charmings would be accompanying us to Orlando. While Kasey and I had visions of matching shirts, foodie finds and days full of blogging inspiration, the boys were just excited to visit Disney's Shades of Green… playing several golf games for three out of the four days we were vacationing there. I mean, seriously… could the four of us BE any more similar?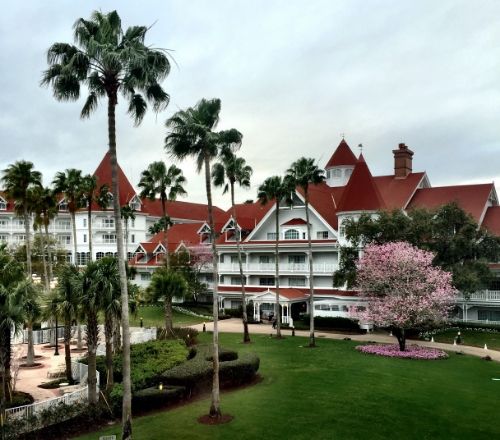 After checking into our plush digs at the Grand Floridian Resort & Spa, we were whisked away to the Four Seasons Resort Orlando at Walt Disney World, a beautiful new property set within Golden Oak, Disney's resort community of luxury custom, single-family homes. In between catching up with old friends and making new ones, we noshed on a Southern-style spread of appetizers, drinks and desserts.
To round off Friday night, Kasey and I grabbed our guys and double-dated at 'Ohana, noshing on Polynesian-style delights and sipping tropical drinks with an amazing view of the fireworks from Magic Kingdom's Wishes nighttime spectacular.
Saturday morning arrived with rain showers galore, but I woke with so much excitement about the day's sessions at the Contemporary Resort and the FOOD! Oh my gosh, the food… it was unbelievable, but I'll get to that in a second.
Food Blog Forum is known for their renowned and respected speakers and this year's panel was no exception. Our sessions began with an enchanting Introduction to Disney Creativity by Leanne O'Regan, Social Media Director for Disney Parks & Resorts, and Victoria Finn. Talk about a dream job! We discovered ways to unlock those hidden ideas at the perfect time. Next up was Todd Porter & Diane Cu of White On Rice Couple, who shared their love of storytelling and how easy it is to portray with just natural light and a good eye for styling.
After a quick coffee break, we dove right in to alternative (& successful!) monetization strategies for our blogs with Jaden & Scott Hair of Steamy Kitchen and Lindsay & Bjork Ostrom of Pinch of Yum. Being a Pinfluencer and a huge fan of Enid Hwang, I was really excited to see her on the speaker list, as well. She gave great insight on how to get the most out of Pinterest, how to optimize content and make your boards more discoverable.
Lunch was up next and with a quick elevator ride up to the California Grill on the 15th floor, we were treated like royalty with a Delicious Disney treat… small dishes from ten of Disney's top restaurants and their award-winning chefs.
There were so many beautiful dishes to sample and carrying more than two or three plates at a time was a challenge, so my tablemates and I went back for seconds (and maybe thirds)! My favorites from the first round included the Sauteed Shrimp & Scallops with Seasonal Vegetables and Mushrooms served in Puff Pastry with a Creamy Lobster Sauce from Chef Mark Norberg & Manager Steve Vanarsdale of Be Our Guest Restaurant at Magic Kingdom, Local Wild Ocean Shrimp with Risotto di Carnaroli alla Frutti di Mare from Chef Tim Keating & Manager Stig Jacobsen of Flying Fish Cafe at Disney's BoardWalk, Roasted Baby Beets with Pear, Goat's Milk Feta, Toasted Pistachio and Petite Greens from Chef Robby Sayles & Manager Rick Decicco of Le Cellier Steakhouse at Epcot and a Fragrant Lamb Potjie with Basmati Rice and Minted Lemon Pickle from Chef Eddie Mendoza & Manager Brandon Rozinsky of Sanaa at Disney's Animal Kingdom Lodge.
The stars of Round Two included the "Power Salad" consisting of Kale, Chard, Chicory, Radicchio, Broccoli, Brussel Sprouts, Quinoa, Goat Cheese, Toasted Sliced Almonds and Dried Sour Cherries with Spiced Honey Vinaigrette from Chef Charles Dolson & Manager Brent Basden of Sunshine Seasons at Epcot, Braised Beef "Bolognese" with House-made Cavatelli from Chef Christian Rumpler & Manager Vinnie Tai of Trattoria al Forno at Disney's BoardWalk, Chocolate Pudding Cake with Chocolate Hazelnut Sauce & Mint Cream and Strawberry-Orange Cake with Champagne Sorbet from Pastry Chef Jeff Barnes of Disney's Contemporary Resort Bakery.
Full from that delectable lunch, we headed to our next session, Expert Roundtables. Sectioned off into smaller groups, the speakers traveled from room to room and answered our questions in a personal setting. There was time to delve deeper into issues than during a normal session; and because of that, it was probably my most favorite one. To round off the day, we made our way back into the ballroom for our last session with Elise Bauer of Simply Recipes and J. Kenji Lopez-Alt of Serious Eats. 'Battling Blogger Burnout' was the topic and it's one I face on a daily basis! This was a perfect session to end the conference on, as it was abundantly clear that I'm not alone in this area. We left with a ton of ideas on how to stay energized and inspired, while avoiding those nasty pitfalls of overwhelming deadlines and demands.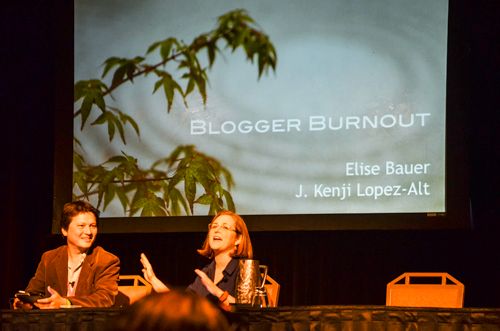 Did I mention that we has a lot of time to play during this trip? FBF gave us enough time so that Saturday night, all of Sunday and most of Monday afternoon were free to spend with our families! Disney also went above and beyond by adding Media FastPasses to our Park Hopper tickets… essentially, we were rock stars when it came to waiting in line. Instead of planning out specific days and times to ride the most popular attractions, we just walked up to a line and scanned our Magic Bands! Presto – just like that, we were in! I will forever be spoiled because of this and hope that Disney decides to include something similar as an add-on to any ticket packages that guests purchase in the future. It would be amazing!!
For our last event, we were bussed to East End Market for 'A Taste of Orlando'. Since Orlando has emerged as a nationally recognized dining destination, Visit Orlando treated us to a sample of tantalizing creations by the local chefs housed at East End. This culinary food hub is inspired by Central Florida's local farmers and food artisans. It's beautiful, eclectic and something I wish I could visit every week. I found, without a doubt, the best Cold Brew coffee I'll ever taste. With a mix of cold brew, organic milk, organic cane sugar, organic raw honey, pure vanilla and a splash of heavy cream, Lineage Coffee Roasting will forever hold a special place in my heart.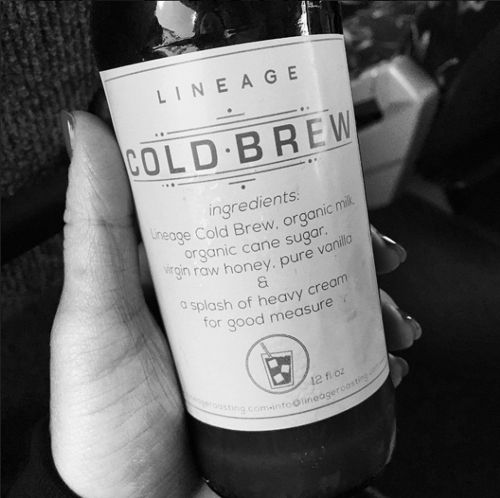 An infinite amount of thanks go to our host, Walt Disney World; the sponsors, Visit Orlando, Four Seasons Resort Orlando at Walt Disney World (Sally Mjoseth), KitchenAid (Isabel Hittleman), Florida Dairy Farmers (Brittny Krause), OXO (Veronica Chan) and Sabra (Stephanie Rogers); and the organizers, Jaden & Scott Hair of Steamy Kitchen, Todd Porter & Diane Cu of White On Rice Couple, Julie Deily of The Little Kitchen and Lindsay Landis of Love & Olive Oil. This conference wouldn't be possible if it wasn't for the hard work (both in front of the camera & behind the scenes) and preparation months in advance. It's always a wish come true to visit Disney and this trip truly did not disappoint!