I've had an everlasting love with all things Disney since I was gifted a stuffed Mickey Mouse at the age of two. I've worked as a Merchandise Hostess at Typhoon Lagoon, took a honeymoon cruise aboard Disney's Fantasy, ran the Princess Half Marathon last year (with hopes of running the Wine & Dine Half this November!) and have visited both Disneyland and Walt Disney World countless times.
Suffice it to say that I have a very festive #DisneySide, so upon hearing that I was chosen to host a #DisneySide @Home Celebration, I said hot diggity dog!
Because of conflicting schedules, we ended up moving the party date a few times, but eventually ended up sending out invitations and hosting on February 22nd… my birthday!
My amazing sister & brother-in-law opened up their beautiful home and we celebrated everyone's #DisneySide with lots of fun, great food and very dear friends.
We played a rousing game of Disney Beat The Parents
, in which the parents actually won! You get to relive your favorite Disney moments and create some new ones as kids and adults compete in a game of Disney questions and challenges. Question categories include Name The Character and Disney Detective, among a few more. The first team to get both mover pieces across the board wins the game! We also had a ball playing 'Pin the Mouth on Mickey' and gifted the winners of both games with prizes from the Prize Station.
Next, it was time to eat! Along with pepperoni & cheese pies from Pizza Planet, we noshed on Mickey's Sugar Cookie Shorts and Clubhouse Cupcakes.
Want to print your very own #DisneySide water bottle labels? Then head over to Piggy Bank Parties for the pdf! I took these and added Mickey's face via Photoshop, then hit print – so easy!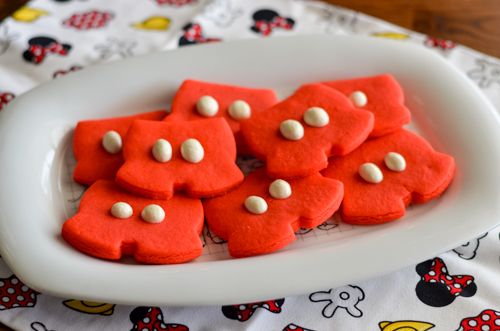 Special thanks to all the partners who included additional goodies to help make our #DisneySide @Home Celebration even more magical! HP; Soy Vay; all, Snuggle & Wisk; Twinings of London; Wilton and Duff Goldman by Gartner Studios.
Check back for another #DisneySide post featuring the recipe for these adorable Mickey Mouse Sugar Cookie Shorts! You won't want to miss it!
See ya real soon!

Disclosure: This is a sponsored opportunity & products were provided by Disney Parks & MomSelect; however, the photography & opinions expressed herein are solely those of the author.