One of the best ways to wake up in the morning is with a plate piled high with pancakes. And if they're packed with protein & sweet blueberries like these, your day is made!
Since it's National Blueberry Pancake Day, I put together these Silver-Dollar Blueberry Protein Pancakes using Driscoll's fresh blueberries. Because they're high in antioxidants, they're known to improve memory function and can reduce the effects of aging. And with the addition of oats & protein powder instead of white flour, these pancakes are the perfect recipe to celebrate the day with in a fit & healthy way!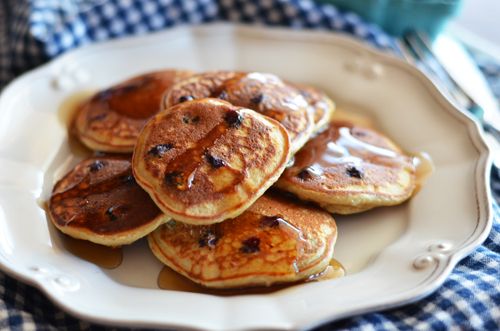 Silver-Dollar Blueberry Protein Pancakes
Ingredients
1/2 c quick cooking oats, uncooked
1 scoop vanilla protein powder
2 tsp baking powder
3 lg egg whites
1/2 medium banana
1/2 c blueberries
Instructions
Place uncooked oats in a blender or food processor and blend until it becomes fine flour. Add protein powder and baking powder, pulsing until combined. Then, add the eggs and banana, again pulsing until completely blended and smooth. Toss blueberries into the batter and carefully fold, using a spatula or spoon.
Place a skillet or griddle on medium-high heat and measure out an 1/8 of a cup or 2 tablespoons of batter per pancake. Cook for about 45 seconds to 1 minute on the first side, then about 30-45 seconds on the other side.
Adapted from: Bodybuilding.com
http://mybakingheart.com/2015/01/28/silver-dollar-blueberry-protein-pancakes/

Disclosure: This is a sponsored opportunity & compensation was provided by Driscoll's; however, the photography & opinions expressed herein are solely those of the author.