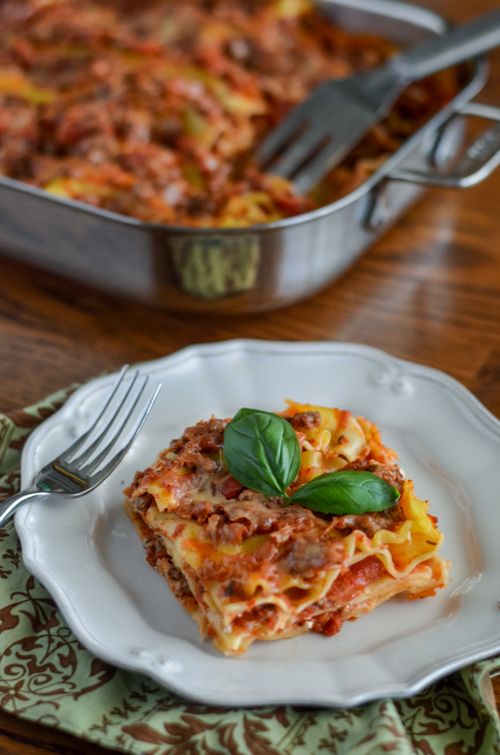 Happy New Year, readers! If one of your resolutions was to eat healthier in 2015, then this recipe is for you!
Red Gold has recently launched their new campaign "Food Brings People Together", supported by TV ads, grower videos and an updated website. The campaign highlights the role Red Gold thinks food plays in bringing families and friends together. Not only are they a family-owned and operated company, they work exclusively with local family farms to grow their great tasting tomatoes to ensure that your family is getting a product that has been grown with love and care.
One of the main dishes highlighted in their TV ads is lasagna. It's not just a family friendly dish, but it's delicious, easy to make and can be fun to put together! They're thrilled to share their 2nd Annual "Red Gold Simple Gourmet Lasagna Party" promotion that they're hosting with their friends at Laura's Lean Beef. Laura's is a Kentucky-based company that produces lean, natural beef from cattle that are humanely raised without hormones and fed a natural diet of grass and grain. And like Red Gold, they're a family run company!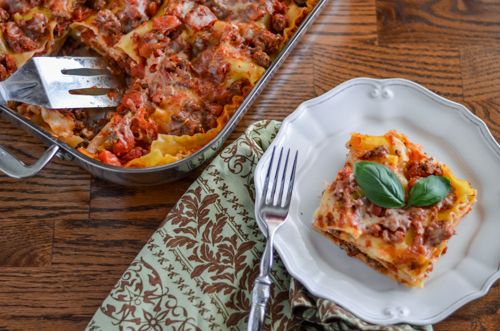 Ingredients
1/2 c water
1 (28 oz) can Red Gold crushed tomatoes
2 (14.5 oz) cans Red Gold diced tomatoes with Basil, Garlic & Oregano
Ground black pepper, to taste
1 tsp Italian seasoning
1 lb Laura's 96% Lean Ground Round, or ground turkey, cooked and drained
1 (16 oz) box traditional whole wheat lasagna noodles, uncooked
1 (15 oz) carton low-fat cottage cheese
2 c shredded low-fat mozzarella cheese
1/2 c grated low-sodium Parmesan cheese
Instructions
Preheat oven to 350 degrees F. In a large mixing bowl, combine water, crushed tomatoes, diced tomatoes, black pepper, Italian seasoning and cooked ground round, stirring to combine ingredients in the sauce.
Cover the bottom of a 9x13x2-inch baking pan with 1-1/2 cups of sauce mixture. Arrange 1/3 of the noodles on top of the sauce, slightly overlapping. Top with 1/2 of the cottage cheese, 1/2 of the mozzarella cheese and 1 cup of sauce. Repeat layers, then top with the last 1/3 of noodles and the remaining sauce. Sprinkle with Parmesan cheese.
Cover tightly with foil and bake for 1 to 1-1/2 hours, until noodles are cooked. Let stand for at least 10 minutes before serving.
http://mybakingheart.com/2015/01/02/skinny-lasagna/
During Red Gold's "Simple Gourmet Lasagna Party", which runs from January 13th through February 3rd on Facebook, they're giving away 750 aprons and 6 Gourmet Lasagna Party Prize Packs, which include a Le Creuset Lasagna Pan. Great new recipes made with Laura's Lean Beef will also be shared!

Disclosure: This is a sponsored opportunity & compensation was provided by Red Gold; however, the photography & opinions expressed herein are solely those of the author.