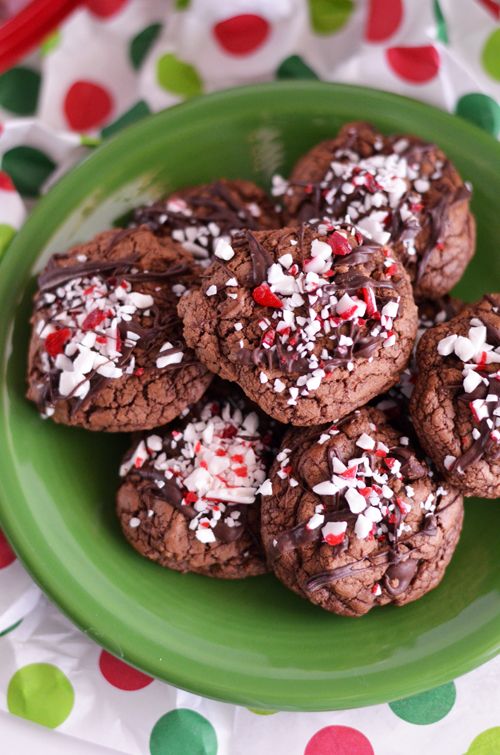 Can you believe that it's already time for another Great Food Blogger Cookie Swap? I've been a fan of this amazing event since the beginning and with each passing year, it just keeps getting better.
2014 looks to be incredibly successful. Because of the continued and meticulous organizational skills of Lindsay from Love & Olive Oil & Julie from The Little Kitchen, over 500 food bloggers participated this go-round. We also raised over $12,000 for Cookies for Kids' Cancer, which includes the generous matching donations from OXO, Dixie Crystals, California Olive Ranch and Shelia G's Brownie Brittle! Once again, I'm incredibly proud to participate in this one-of-a-kind event with these Double Chocolate Peppermint Crunch Cookies!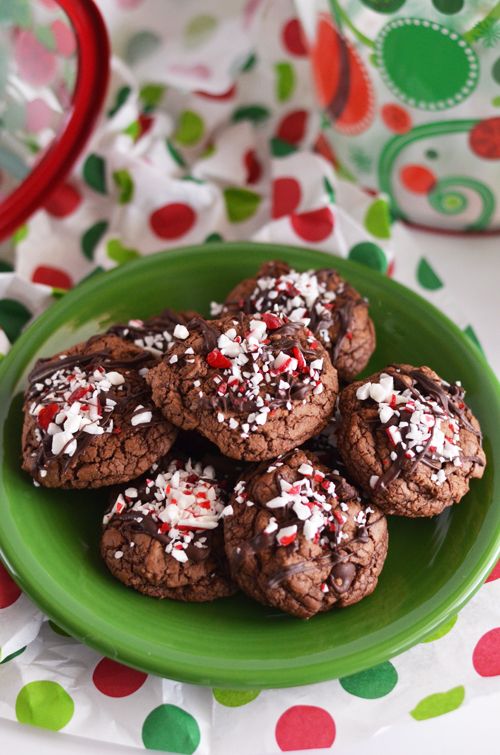 Double Chocolate Peppermint Crunch Cookies
Ingredients
2-1/2 c bittersweet chocolate chips, divided
1-1/2 c all-purpose flour
1/4 c dark cocoa powder
1 tsp baking powder
1 tsp instant espresso powder
1/2 tsp Kosher salt
8 tbsp unsalted butter, at room temperature
1 c granulated sugar
1 tsp pure vanilla extract
1 tsp peppermint extract
2 lg eggs
4 candy canes or 16 red-and-white-striped hard peppermint candies, coarsely crushed
Instructions
Preheat oven to 375 degrees F. Line 2 large rimmed baking sheets with parchment paper. Stir 2 cups of chocolate chips in a medium metal bowl set over saucepan of simmering water until melted and smooth. Measure 2/3 cup of melted chocolate; transfer to small metal bowl and reserve for drizzling.
Whisk together flour, cocoa powder, baking powder, espresso powder and salt in a medium bowl. Using an electric mixer, beat butter in a large bowl until creamy. Add sugar and both extracts; beat until smooth. Add eggs; beating to blend. Beat in melted chocolate from medium bowl.
Add dry ingredients; beat just until incorporated. Stir in remaining 1/2 cup of chocolate chips. Measure 1 level tablespoonful dough; roll dough between palms to form ball. Place on prepared baking sheet. Repeat with remaining dough, spacing cookies 1-1/2 inches apart.
Bake cookies until cracked all over and tester inserted into center comes out with large moist crumbs attached, 8 to 9 minutes. Cool cookies on baking sheet for 5 minutes, then transfer cookies on parchment paper to racks to cool completely.
Rewarm reserved 2/3 cup of chocolate over small saucepan of simmering water. Using fork, drizzle chocolate over cookies. Sprinkle crushed candy canes over, arranging some pieces with red parts showing. Chill just until chocolate sets, about 20 minutes.
Source: Bon Appetit, December 2010
Notes
Can be made 3 weeks ahead. Store airtight in freezer. Bring to room temperature before serving.
http://mybakingheart.com/2014/12/15/the-great-food-blogger-cookie-swap-2014-double-chocolate-peppermint-crunch-cookies/
If you've missed the cookies I made in the past, you can check them out at the links below:
2013 – Red Velvet Blossoms
2012 – Spiced Rum Cookies
2011 – Ginger Cookies
Keep an eye out for the #fbcookieswap hashtag on Twitter and Instagram, where you can follow along with the thousands of yummy cookie posts and photos.
Pictured below are the beautiful cookies I received this year and they are some of the best! Cinnamon Chip Cookies from Renee of Tortillas & Honey, Russian Tea Cakes from Claire-Lauren of Simply Sweet Justice and Hot Chocolate Cookie Cups & Homemade Vanilla Bean Marshmallows from Ash of Memoirs From My Kitchen!