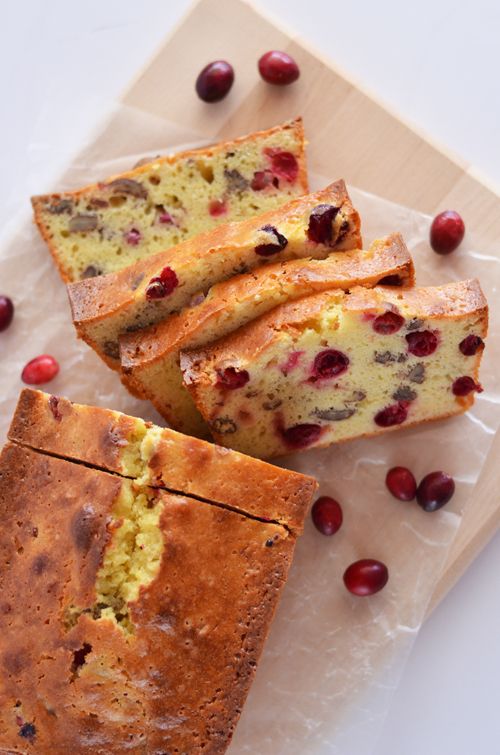 I love baking with yogurt. It's incredibly easy to substitute it for whichever fat your recipe calls for. In fact, Stonyfield created a handy-dandy guide just for the occasion. Not only does it cover baked goods, but includes tasty dressings, creamy soups and tender marinated meats.
This Pecan & Cranberry Pound Cake is no exception. It's just as rich and dense as a normal pound cake, but with less fat & calories! With the tangy cranberries and tart lemon taste, this cake is a perfect addition to any holiday gathering! It's a win-win!
Pecan & Cranberry Pound Cake
Ingredients
2 c all-purpose flour
1 tsp baking powder
1/2 tsp Kosher salt
1/4 c unsalted butter, at room temperature
1-1/4 c granulated sugar
2 tsp freshly-grated lemon zest
4 lg eggs
1 tbsp fresh lemon juice
1 tsp pure vanilla extract
3/4 c fresh cranberries
1 c pecan halves, chopped
Instructions
Preheat the oven to 325 degrees F. Butter and flour the inside of a 9" x 5" loaf pan; set aside.
In a medium bowl, whisk together the flour, baking powder and salt; set aside. In the bowl of an electric mixer or using a hand mixer, combine the yogurt, butter, sugar and zest. Beat on medium speed for 3 to 5 minutes, or until the butter mixture lightens and becomes fluffy. Beat in eggs one at a time at medium speed, scraping down the sides of the bowl frequently, then beat in the lemon juice and vanilla. Reduce speed to low, adding in the flour mixture until just incorporated.
Gently stir in the cranberries and chopped pecans. Bake cake for 60 minutes, or until a toothpick inserted into the center comes out clean. Cool for 15 minutes in the pan, then turn out onto a rack to cool completely.
Adapted from: Fisher Nuts
http://mybakingheart.com/2014/12/11/pecan-cranberry-pound-cake-and-a-giveaway/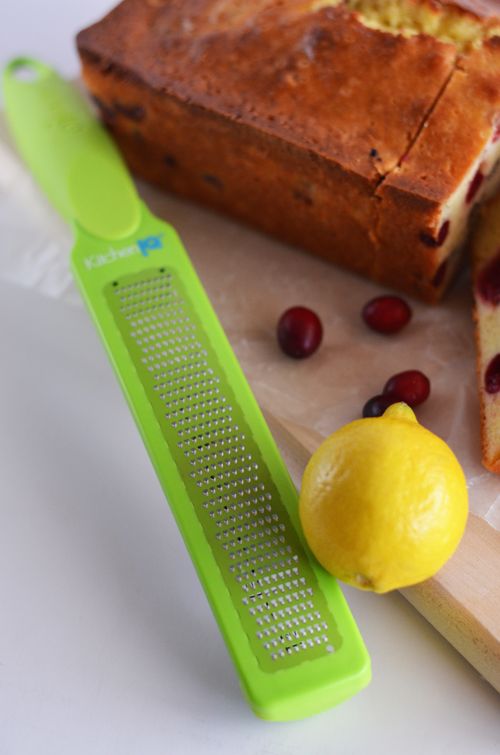 Now, on to the giveaway! The V-etched Better Zester from KitchenIQ above, is my new favorite tool. It takes zesting to a whole new level with its innovative design and features.
The blade is made up of over 300 tiny V-shaped teeth and is covered with a non-stick, food-approved coating, which allows the zester to smoothly glide across the surface of all types of citrus, while finely zesting the outer layer of skin and not the bitter pith. It includes a "fresh zest" storage container with squeegee, which gathers the fresh zest as it is grating and the squeegee helps remove the moist zest from the back of the blade! Genius, right? It also features a non-slip tip and soft touch handle, as well as a reusable protective cover.
And if you'd like one of your own, just follow the prompts below. It's as easy as 1-2-3 and you're entered to win! In addition, you'll receive free yogurt coupons from Stonyfield so that you'll have all the tools to make this pound cake!

Disclosure: I am honored to be a member of the Stonyfield Clean Plate Club. I received product or coupons for writing this post, but all opinions are my own.