Whether it's a birthday, a graduation, a promotion or an anniversary, I believe all celebrations deserve a cupcake.
C & I celebrated two years of wedded bliss this past Monday. And while we were apart for the actual day, we made sure to party in grand style over the weekend. I took two dozen of these sweet treats to our tailgate party and they did not disappoint. The spices in the cake lend themselves perfectly to the Fall season and the cream cheese frosting is the cherry on top. It's one of my favorite recipes and I hope you'll love, it too!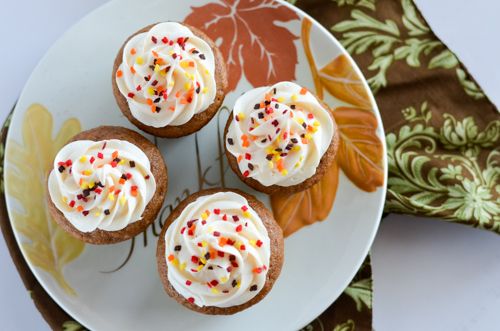 Spice Cupcakes with Cream Cheese Frosting
Ingredients
For the Cupcakes:

2-1/2 c all-purpose flour
1 tsp baking powder
1 tsp baking soda
1 tsp Kosher salt
1 tsp ground cinnamon
1/2 tsp ginger
1/4 tsp ground cloves
1/4 tsp ground nutmeg
8 tbsp unsalted butter, at room temperature
1/2 c light brown sugar, firmly packed
1 c granulated sugar
2 lg eggs
1 tsp pure vanilla extract
1-1/4 c lowfat buttermilk

For the Frosting:

2 (8 oz) pkgs cream cheese, at room temperature
8 tbsp unsalted butter, at room temperature
1 tsp pure vanilla extract
2-1/2 c Confectioners' sugar, sifted
Pinch of salt
Instructions
For the Cupcakes:
Preheat oven to 350 degrees F and line a cupcake tin with paper liners. Whisk together the flour, baking powder, soda, salt, cinnamon, ginger, cloves, and nutmeg. Using the paddle attachment of a stand mixer or hand mixer, cream butter in a large bowl; then add both sugars, eggs, and vanilla extract. Scrape down the sides of the bowl and beat at high speed for an additional 5 minutes, or until light and fluffy. Add dry ingredients, alternating with buttermilk, mixing at lowest speed just until incorporated.
Evenly distribute the batter into each cupcake liner and bake for 17 to 20 minutes, or until a wooden pick or cake tester inserted in the center comes out clean. Cool in pans on rack for 5 minutes, then turn out of pans onto racks to cool completely.
For the Frosting:
With an electric mixer, blend together cream cheese and butter until smooth. Turn mixer to low speed and blend in powdered sugar, salt and vanilla extract. Turn mixer on high and beat until light and fluffy. Use immediately or refrigerate, covered, until ready to use. If refrigerated, the frosting will need to be brought to room temperature before using (after frosting softens up, beat with mixer until smooth).
Frosting source: Pinch My Salt
Notes
If you prefer a sweeter and/or stiffer frosting, more Confectioner' sugar can be added (up to four cups). But remember, the more sugar you add, the less you'll be able to taste the tangy cream cheese!
http://mybakingheart.com/2014/10/29/spice-cupcakes-with-cream-cheese-frosting/