September is Childhood Cancer Awareness Month and OXO is once again supporting Cookies for Kids' Cancer! I'm so excited to continue my relationship with OXO and can't wait for you to try out the cookies that I created especially for the program.
Cookies for Kids' Cancer was founded by two OXO employees who were inspired by their son Liam's battle with pediatric cancer, a disease which claims the lives of more children in the US than any other disease. Cookies for Kids' Cancer provides inspiration and support to allow anyone to easily get involved in fundraising to find a cure for pediatric cancer. The news of Liam's diagnosis hit OXO hard and they've been personally involved with this worthy organization from the beginning. As a formal show of support, in 2014, OXO will donate up to $100,000 to support Cookies for Kids' Cancer. So during the month of September, they're donating $100 for each blog post specially dedicated to this campaign.
In the years I've participated, I've baked up a batch of Flourless Peanut Butter-Chocolate Chip Cookies, Pumpkin Spice Brookies and now, these Dark Chocolate & Pecan Brownie Cookies! Double the chocolate, studded with chopped pecans and sprinkled with freshly-ground sea salt, these cookies will be the star of your next dessert tray!
Keep an eye out for the cookies galore that have been already been pinned to OXO's Pinterest board! So many yummy recipes, so little time!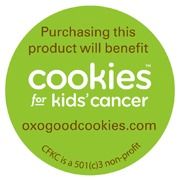 And while you're out & about, look for specially stickered items at participating retailers – for every stickered item sold, OXO will donate 25 cents in support of pediatric cancer research as part of its $100,000 pledge to Cookies for Kids' Cancer!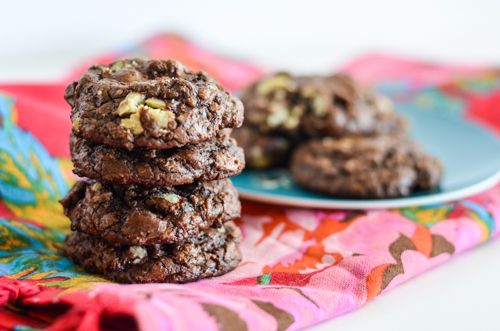 Dark Chocolate & Pecan Cookies with Sea Salt
Ingredients
4 c dark chocolate chips, divided
6 tbsp unsalted butter
3 lg eggs
1 c granulated sugar
2/3 c all-purpose flour
1/2 tsp baking powder
1/2 tsp fine sea salt
2 c dark chocolate chips
1 c chopped pecans
Freshly-ground sea salt, for topping
Instructions
Melt 2 cups of the dark chocolate chips and butter in the top of a double boiler or in a heatproof bowl over barely simmering water, stirring occasionally until smooth. In a large bowl, beat the eggs and sugar with an electric mixer until thick; then, mix in the chocolate mixture.
In a small bowl, whisk together the flour, baking powder and salt; then, gradually mix into the chocolate mixture. Gently stir in the remaining 2 cups of dark chocolate chips and pecans.
Using a sheet of plastic wrap, form the dough into two logs, each 2 inches in diameter and about 8 inches long. Because the dough will be quite soft, use the plastic wrap to hold the dough in the log shape. Wrap tightly; refrigerate for at least 1 hour or until firm.
Preheat the oven to 375 degrees F and line a baking sheet with parchment paper. Unwrap the dough and with a sharp knife, cut the dough into 3/4-inch slices. Place the slices 1-1/2 inches apart on the prepared cookie sheet and sprinkle the freshly-ground sea salt on top of each slice. Bake for 12 to 14 minutes, or until a shiny crust forms on top of the cookies but the interior is still soft.
Let cool on the baking sheet, then remove from the baking sheet with a metal spatula. Store in an airtight container at room temperature for up to one week.
http://mybakingheart.com/2014/09/30/dark-chocolate-pecan-brownie-cookies/

Disclosure: I have partnered with OXO to help promote their participation with 'Cookies for Kids' Cancer'. I was compensated with a set of cookie-baking tools by OXO. However, opinions are entirely my own and I have not been paid to publish positive comments.