With summer in full swing and the temperatures heating up, I'm finding that we're spending more and more time around the grill. We're big fans of grilling the norm: steaks, chicken, vegetables (and even grilled pizza!), so whenever OXO offered to send over new tools to help out in the grilling process, we were all for it!
I love roasted corn on the cob and I would probably eat it every single night if I could. My sister, though, has always asked for the kernels to be cut off. And my mom still grants her wish to this day when we have dinner at our parents' house. So when I opened up OXO's Corn Stripper, I immediately thought of Roxy. The sharp teeth on the end zip right down the cob, collecting the kernels in a handy 1/2-cup capacity container. The non-slip grip is comfortable and the tool as a whole is dishwasher safe and super-easy to clean.
I also fell in love with their extra-long Good Grips Tongs. It's no secret that I'm afraid of fire & heat. Ridiculous, I know, since I work with ovens and stoves on a regular basis (I'm the girl with the oven mitt that comes up to my elbow). But, with these 16″ tongs, I can flip and toss anything on the grill with confidence and ease!
Both tools were perfect in helping create this Roasted Corn Salsa. It's filled with good-for-you ingredients and it's amazing as a garnish, a dip or even on it's own. Here's to Summer Grilling!
Ingredients
2 large ears of corn, husked
1 (15.5 oz) can pinto beans, rinsed and drained
3/4 c pico de gallo
1/4 cilantro, roughly chopped
Kosher salt & freshly ground black pepper, to taste
Instructions
Brush the corn liberally with olive oil and season well with salt and pepper. Grill, turning every few minutes, until cobs are a golden color all over and cooked, about 12 minutes. Let cool and zip off the kernels with the Corn Stripper. Discard the cobs.
Add the pinto beans, pico de gallo and cilantro to the corn. Toss well. Taste for seasoning and adjust with salt and pepper. The salsa is best eaten the same day but will keep, covered and refrigerated, a day or two.
http://mybakingheart.com/2014/07/24/roasted-corn-salsa-grilling-with-oxo/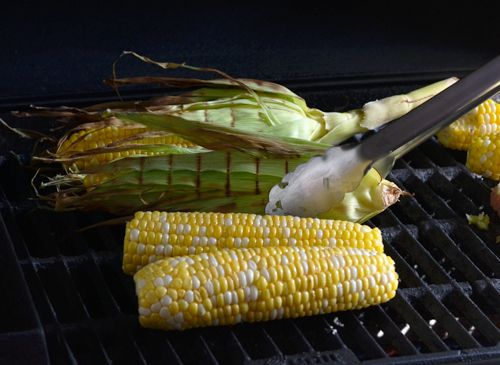 Disclaimer: As part of OXO's Blogger Outreach Program, I received a selection of kitchen products from OXO to use in testing.