Summer is the perfect time for grain salads. And if you've never tried one, then you're definitely missing out. Not only are they super-healthy for you and something totally out of the norm, but they taste amazing. With all of the grains that Bob's Red Mill has to offer, you'll never eat the same salad twice. And when paired with a Stonyfield organic Greek yogurt dressing, you've got something really special.
I'm a sucker when it comes to Mexican food. Anything even slightly related to it will most likely curb my cravings, so when asked to come up with a grain salad, I knew I'd incorporate Mexican elements. The veggies, spices and herbs blend incredibly well with the bulgur. It's a light dish that's perfect as a side at dinner or as lunch out on the patio!
Ingredients
2 c bulgur
1 (15 oz) can black beans, rinsed and drained
1 (15 oz) can corn kernels, drained
1/2 lg red onion, chopped
2 md tomatoes, diced
1/2 sm jalapeño, seeds removed and diced
1/4 c chopped olives
1/2 large bunch of cilantro, chopped
2 (5.3 oz) containers Stonyfield Plain Greek yogurt
Zest and juice of 1 lime
1/2 tsp cumin
1 tbsp fresh garlic, minced
1 tbsp extra virgin olive oil
1/4 tsp Kosher salt
Instructions
Place the bulgur in a small bowl and cover with very hot (just off the boil) water by 1/2-inch. Set aside to soak until softened but still chewy, about 20 minutes.
While the bulgur is soaking, rinse and drain the black beans, then drain the corn and place both in a medium bowl. Chop the onion, tomatoes and jalapeño, placing them on top of the bean & corn mixture. Add the chopped olives and cilantro to that and set aside.
In a small bowl, add the lime zest & juice to the Stonyfield Greek yogurt. Next, add the cumin and garlic, whisking until combined.
When the bulgur is done, drain off any excess water and place in a large bowl. Add the olive oil and Kosher salt. Toss to coat the grains. Next, add the bean & corn mixture to the bowl with the bulgur. Toss everything together, taste, and adjust seasonings as needed.
To serve, garnish the salad with a few tablespoons of chopped cilantro. Serve chilled with crackers, pita chips or on it's own.
http://mybakingheart.com/2014/06/06/mexicali-grain-salad-a-bobs-red-mill-giveaway/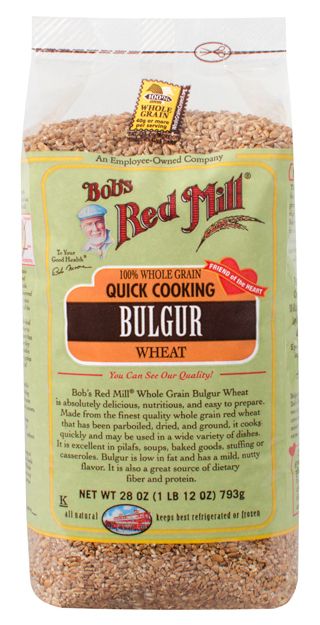 This month, I'm partnering up with Stonyfield & Bob's Red Mill to offer you a fabulous giveaway! The lucky winner will receive a package that includes five of Bob's Red Mill's most popular grains: Amaranth, Bulgur, Farro, Grande Whole Grains Blend and Sorghum. In addition to the grains, you'll also receive two coupons from Stonyfield for free quarts of either Greek or traditional yogurt to make a yummy dressing!
Just follow the prompts below and you're entered to win! Giveaway ends June 11th, 2014 at midnight CST.

Disclosure: I am honored to be a member of the Stonyfield Clean Plate Club. I received product or coupons for writing this post, but all opinions are my own.