Disclosure: This is a sponsored opportunity with HoneyBaked Ham and compensation was provided by Business 2 Blogger; however, the photography & opinions expressed herein are solely those of the author.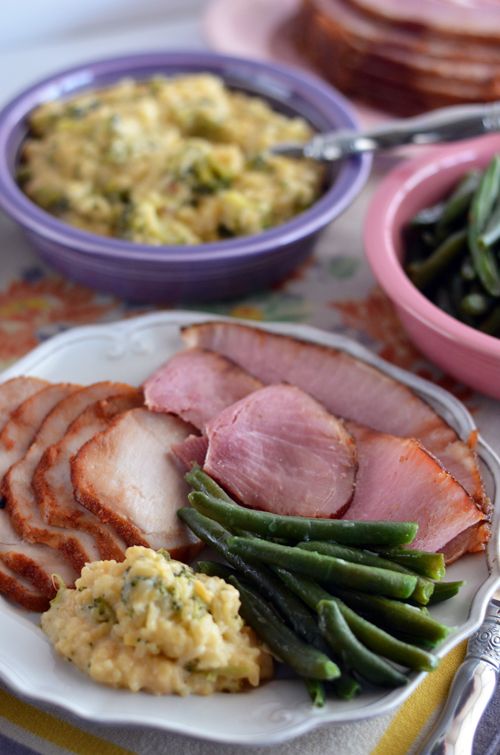 Every Spring, my family starts discussing our Easter weekend plans. With 39 relatives on both sides, that accounts for quite a few opinions. Where we'll eat, what to put on the menu, the number of places to set, when we'll dye eggs, how many beds to make up and what we'll wear to church. Plans almost always change once the weekend arrives, but we know without a doubt that a ham will be served.
And while the gals get to spend time with one another in the kitchen, we often miss out on the egg hunt, the movies and the catching up that goes on in the living room. But this year, HoneyBaked Ham is here to help you and me host a hassle-free Easter dinner, giving us more time to make memories and spend the holiday with our loved ones.
Once we visited the HoneyBaked Ham location at Preston Rd. and Plano Pkwy. in Plano, TX, we were ready to dig in before we'd even arrived home! Our dinner consisted of their Bone-in Quarter Ham, which is perfect for smaller groups of 6-8 people. We also added a Smoked Turkey Breast that was lightly seasoned and then fire-glazed with HoneyBaked's signature sweet, crunchy glaze. Both were fully-sliced and ready-to-serve, which will save us even more time on Easter Day.
Complementing both the ham and turkey were our sides of Broccoli Rice Casserole and Green Beans Amandine. The casserole features broccoli florets and seasoned rice blended with a creamy cheddar cheese sauce and the beans are a classic dish lightly seasoned with a perfect blend of green beans, shallots and almonds. Both sides serve 6-8 people each.
Finally, for dessert, we chose a Cinnamon Walnut Coffee Cake. Made with pure bourbon vanilla and cultured sour cream, their moist bundt cake is double-layered with whole walnuts and rich cinnamon streusel.
Delicious and easy on you… I can't think of anything better!
HoneyBaked has some wonderful in-store specials to help you plan that perfect Easter dinner menu:
$54.99 Ham & Turkey Combo, $22.99 Turkey Breast (with any Half or Whole Ham purchase), Heat & Share Sides: two for $13.99, three for $19.99 or a $24.99 Easter Brunch Bundle of a Cinnamon Walnut Coffee Cake and Honey-Spice Bacon.
You can also become a HoneyBaked VIP at honeybakedfoods.com and save up to $6 on your purchase! Just click on this link to print off some great coupons!
To get you in the holiday mood, HoneyBaked is giving twenty lucky readers a $50 gift card to create their perfect Easter dinner. Just follow the prompts below and you're entered!