Happy St. Patrick's Day, lucky readers! If you're wearing your green, but haven't had a chance to whip up a dessert to follow tonight's dinner, then you've come to the right place. I'd say you're in luck… but that's a given.
The recipe may seem long, but don't worry, it really doesn't take that long to have a dozen of these little pots of gold ready to indulge in for your St. Patty's Day celebrations. So, put on a pot of coffee (you'll need it for the cake and syrup anyway!) and get to work. I know you'll love them as much as we did!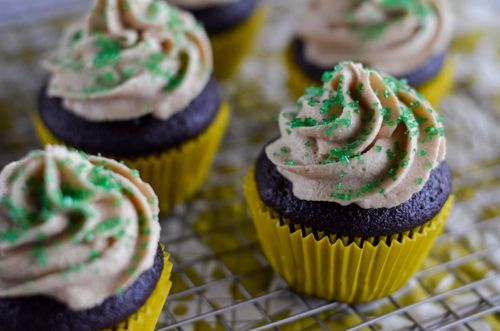 Ingredients
For the Cupcakes:

1-1/2 c flour
3 tbsp dark cocoa powder
1/2 tsp Kosher salt
1 c granulated sugar
1 tsp baking soda
2 tsp pure vanilla extract
1 tsp white vinegar
6 tbsp vegetable oil
1 c dark roast coffee, brewed

For the Syrup:

2/3 c dark roast coffee, brewed
1/2 c granulated sugar
3-4 tbsp whiskey

For the Espresso Cream Cheese Frosting:

1/2 c unsalted butter, at room temperature
1 (8 oz) pkg Neufchatel cream cheese, at room temperature
2 tsp espresso powder
2 tbsp water
1 tsp pure vanilla extract
2 c Confectioners' sugar
Instructions
For the Cupcakes:
Preheat oven to 350 degrees F and line a cupcake tin with 12 liners. Place dry ingredients in a large bowl and whisk together throughly. Make 3 holes in the mixture, pouring the vanilla into one hole, the vinegar into another and the oil into the last hole. Pour the coffee over the top and mix thoroughly. Fill each cupcake liner 3/4 of the way full and bake for 20 minutes. Test cupcakes with a wooden toothpick and if done, remove from oven, letting them cool in the pan for 10 minutes. Remove cupcakes from pan and place on rack to finish cooling to room temperature.
For the Syrup:
Dissolve the sugar slowly in the coffee, boiling for one minute. Remove from heat and stir in the whiskey. Let cool before brushing onto cupcakes.
For the Espresso Cream Cheese Frosting:
In a large bowl using a hand mixer or an electric mixer & its paddle attachment, beat together the butter and cream cheese. In a separate smaller bowl, whisk together the espresso powder and water, until it fully dissolves. Add it to the butter/cream cheese mixture and beat until incorporated. Next, add in the vanilla extract and beat until incorporated. Finally, gradually add the Confectioners' sugar until frosting is fluffy and almost doubled in size. Pipe onto cooled cupcakes, sprinkling with green sugar or jimmies.
http://mybakingheart.com/2014/03/17/irish-coffee-cupcakes/