Did you know that last month was Potato Lovers' Month? Trust me, I've been busy celebrating, but during that time I forgot to let you in on a little announcement. After I was approached by my friends at the Idaho Potato Commission about participating in a potato challenge along with five fellow bloggers to help celebrate, I came up with a side dish that's as tantalizing as it is light as air.
What resulted was an amazing Potato Soufflé that's filled with rich garlic and spicy green chiles. It's a party in your mouth, I tell ya! Perfect with chicken or pork and serving enough to feed an army, this side dish is packed with tons of protein and fiber. It's also in the running to win Idaho® Potato's #SideDishChallenge!
Through March 15, you can vote once a day to declare this dish your favorite! The coveted prize? A whopping $5,000 donated to the winning blogger's hometown Meals On Wheels program. No logins, no passwords, no pages to 'like'… just click on this link and hit the 'Vote' button underneath my Soufflé photo. Just a few days left, so remember to vote every day!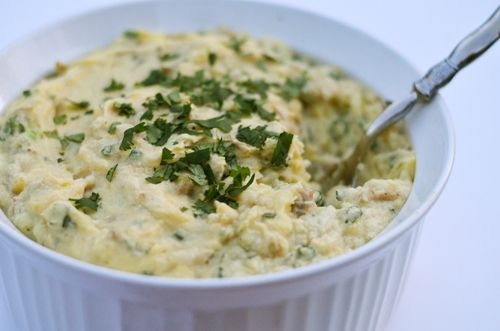 Green Chile Idaho® Potato Soufflé
Ingredients
2 lbs Idaho® Yukon gold potatoes, unpeeled and quartered
2 tbsp unsalted butter
1/2 tsp kosher salt
1/2 tsp freshly ground pepper
3 tbsp skim milk
4 lg eggs, separated
1 (4.5 oz) can chopped green chiles
1/2 c finely grated Colby Jack cheese
1/4 c finely chopped green onions
1/4 c finely chopped cilantro, plus extra for garnish
Instructions
In a large saucepan with enough water to cover, cook potatoes, covered, for 20 to 25 minutes or until tender; drain. Transfer potatoes to the bowl of a stand mixer, and using the paddle attachment, beat potatoes on low speed. Add butter, salt and pepper and beat until incorporated. Gradually beat in milk, until the mixture is light and fluffy.
Heat oven to 325° F. Grease a 2-quart serving dish and set aside. In a small bowl, beat egg yolks until light, about 2 minutes. Gently fold beaten yolks into the potatoes. Next, fold in green chiles, grated cheese, onions and cilantro.
In a separate small bowl, beat egg whites until stiff; then gently fold the egg whites into the potato mixture. Transfer potato mixture to the greased serving dish. Bake, uncovered, for 25 to 30 minutes, or until set and the edges are golden brown. Serve immediately.
A 'My Baking Heart' original recipe
http://mybakingheart.com/2014/03/10/green-chile-idaho-potato-souffle/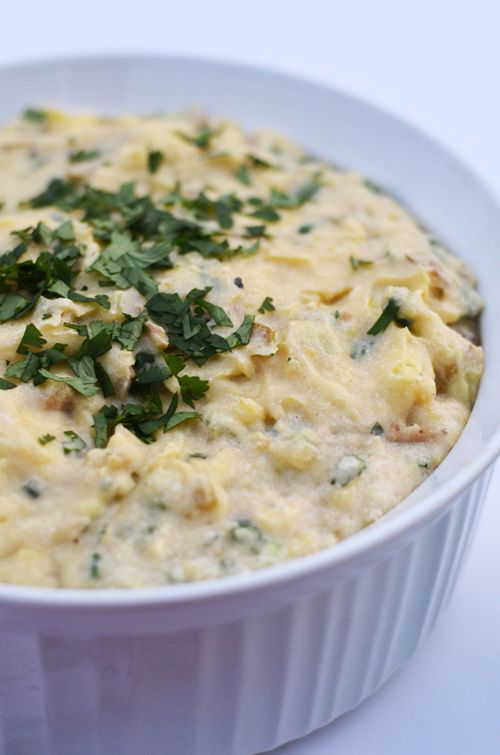 Disclosure: Compensation was provided by the Idaho Potato Commission; however, the photography & opinions expressed herein are solely those of the author.