From the time I was in grade school, February has been my most favorite month. It's filled with bright pinks & reds, hearts & flowers, holidays galore and the birthdays of two special people: my husband and myself. It's also National Pancake Month… and why would you not want to celebrate that! Twenty-eight days to bask in the glory of that sweet little cake? Sign me up!
C and I are normally apart for our birthdays every year. During the time we were dating, he lived in California and I was in Texas. Now, I'm usually on a week-long business trip that falls over both the 22nd and the 28th. And since this year is no different, I decided that we'd celebrate over last weekend… with plates of these silver-dollar-sized 'Birthday Sprinkle' Greek Yogurt Pancakes! They're tender, sweet and filled with Stonyfield's yummy Strawberry Greek Yogurt. Festive and good for you… sounds like a winner to me!
'Birthday Sprinkle' Greek Yogurt Pancakes
Ingredients
1-1/2 c all-purpose flour
2 tbsp granulated sugar
1-1/2 tsp baking powder
1/4 tsp baking soda
1/2 tsp Kosher salt
1 c skim milk
1 lg egg
1 tsp pure vanilla extract
2 tbsp butter, melted and cooled
1 c mixed, multi-colored nonpareils & jimmies sprinkles
Instructions
Preheat a sauté pan or griddle over medium-low heat and spray it with cooking spray. In a large bowl, whisk together the flour, sugar, baking powder, baking soda and salt. In a separate smaller bowl, whisk together milk, egg, vanilla extract and Greek yogurt.
Add the milk mixture to the flour mixture, mixing well. Next, add in the cooled, melted butter, stirring until combined. Finally, gently fold in sprinkles, being careful not 'break' any of them. Once the pan or griddle is hot, scoop a 1/4 cup of batter into the pan. Let it cook for about 2 minutes or until golden brown, then carefully flip to the other side and cook for another 1 to 2 minutes. Serve hot, topped with extra yogurt, sprinkles, butter and syrup, if desired.
A 'My Baking Heart' original recipe
http://mybakingheart.com/2014/02/21/birthday-sprinkle-greek-yogurt-pancakes/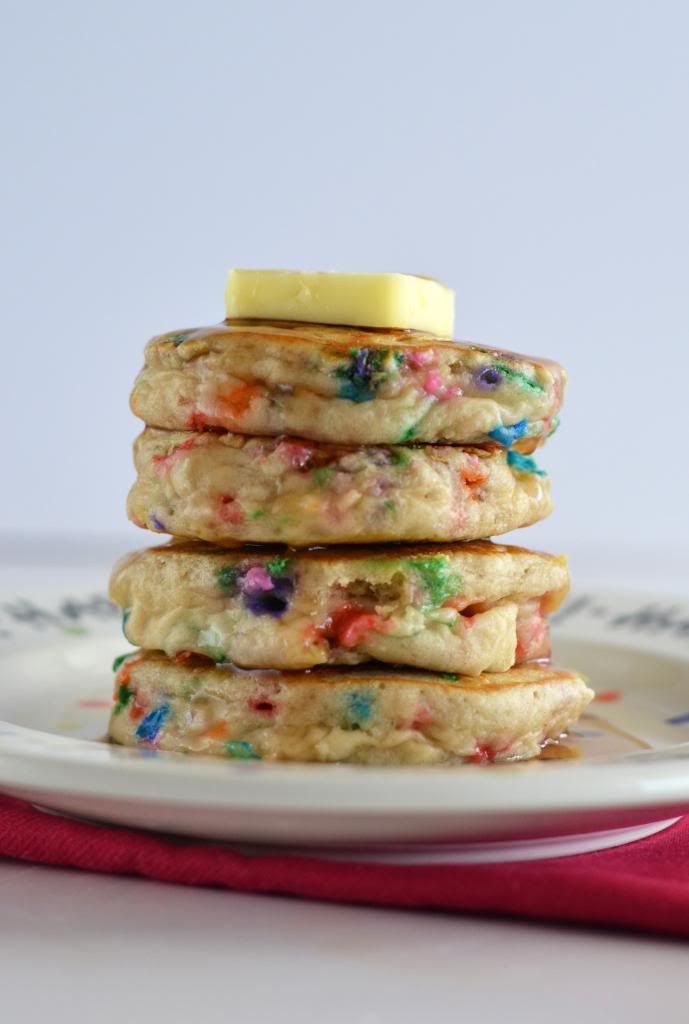 Disclosure: Compensation was provided by Stonyfield in the form of product & coupons; however, the photography & opinions expressed herein are solely those of the author.