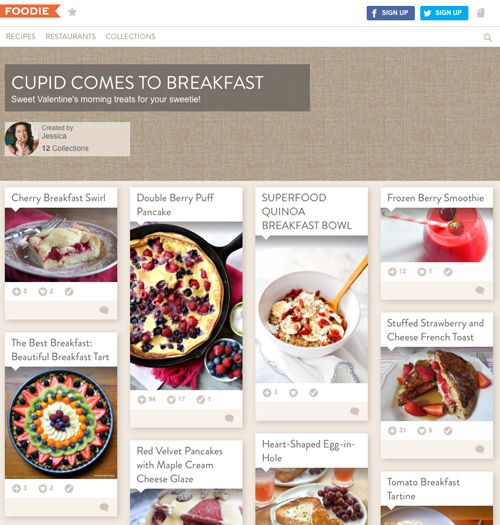 When I think of Valentine's Day, I picture romantic candlelit dinners, overstuffed teddy bears, helium balloons, dozens of roses and Hallmark cards in every color of pink and red in the rainbow. Now, don't get me wrong, this is never the case for C and me. We do celebrate, of course – with a vase of flowers here, a card there – but never flashy, over-the-top, shout-it-from-a-mountain type celebrations. If that's your thing, then by all means, go for it! But, that's just not us.
I love to bake up a sweet when I want to show C some affection. As you all know, his favorite treat is a brownie. However, in the past few weeks, if I'm home at night, he isn't (and vice versa). So, with this in mind, I've put together a few sweet dishes that would be perfect for a Valentine's Day breakfast. Not only are these dishes filling and good for you, but it's the best way to start a Valentine's Day… with lots of love baked right in!

Disclosure: This is a sponsored opportunity with Foodie.com and compensation was provided by Glam Media; however, the photography & opinions expressed herein are solely those of the author.