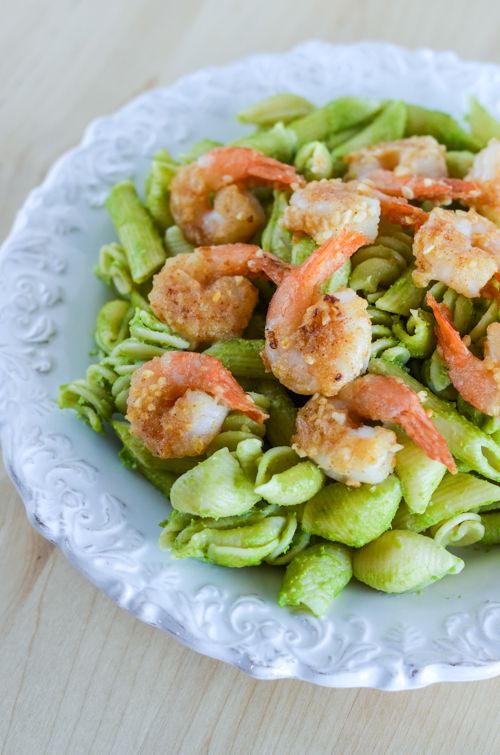 I'm so excited to be hosting Round Two in the Stonyfield Virtual Cooking Party Series! I asked five of my sweet friends to join me and we each put a different spin on this beautiful dish of Pasta with Spinach Yogurt Pesto.
I'm a huge fan of pesto… not only the sauce in its entirety, but each of the ingredients that go into making it. The bright green basil leaves, the fresh garlic, the crunchy pine nuts and the cheesy Parmesan shreds. It's so good, I could put it on everything. With this batch, I decided to change it up with the addition of spinach and Stonyfield's plain Greek yogurt. Those two ingredients seriously took things over the top and now, I really could eat it straight from the bowl! But once it's topped with Garlicky Shrimp, things get serious. So much yum on this plate, I tell ya!
With the other chefs, chicken was the most popular, as Kasey of Kasey's Kitchen, Amy of Nifty Foodie and Jessica of Sunny Side Up added it to their pasta dishes. Kelsey of Apple A Day stuck to her Meatless Mondays menu by adding white beans and tomatoes to hers, and Krystal of Mrs. Regueiro's Plate topped hers with a spicy sausage. So many amazing dishes to choose from, ladies! Thank you again for cooking along with me!!
Garlicky Shrimp over Pasta with Spinach Yogurt Pesto
Ingredients
For the Pasta with Spinach Yogurt Pesto:

4 cloves garlic, coarsely chopped
1-1/2 c baby spinach leaves
3/4 c tightly packed fresh basil leaves
1/2 c toasted pine nuts
1 tbsp fresh lemon juice
1/2 tsp lemon zest
1/2 c freshly-grated Parmesan cheese
1/2 c plain Stonyfield Greek yogurt
1/2 c extra-virgin olive oil
3/4 tsp Kosher salt
1/2 tsp freshly-ground black pepper
1 (12 oz) bag organic rotini, mostaccioli & shells pasta mix

For the Shrimp:

1 c all-purpose flour
2 tbsp paprika
1/4 tsp cayenne pepper
32 51/60 shrimp, cleaned & deveined
1/4 c unsalted butter
5 cloves garlic, minced
Pinch of Kosher salt
1/8 c white wine
Instructions
Combine garlic, spinach, basil, pine nuts, lemon juice and zest in the bowl of a food processor or a blender and process until finely chopped, scraping down the sides of the bowl once or twice. With the motor running on low, add the parmesan cheese and yogurt, then the olive oil in a slow, steady stream. Scrape mixture into a small bowl and season with salt and pepper. Cover with plastic and refrigerate for up to 3 days, until ready to use.
Bring a large pot of salted water to a boil and cook pasta until al dente, following the directions on the box. Reserve a 1/2 cup of cooking liquid. Drain pasta and return to pot, tossing with the yogurt pesto. If pasta looks too dry, add reserved cooking liquid, 1 tablespoon at a time, to moisten.
In a small bowl, whisk together the flour, paprika and cayenne pepper. Roll the shrimp pieces in the flour mixture, making sure to coat each one. Heat a sauté pan to medium-high heat and add the butter and chopped garlic. Cook both for about one minute, then carefully add the flour-coated shrimp to the pan. Sprinkle some salt over the shrimp pieces. Turn the shrimp over after 3 minutes. Cook for another 3 minutes and then carefully pour the white wine around the shrimp. Stir a bit, and continue to cook, until the garlic on the shrimp is golden brown (don't overcook).
Divide pasta among four dishes, topping each with eight shrimp, and serve immediately.
http://mybakingheart.com/2014/01/27/a-stonyfield-virtual-cooking-party-garlicky-shrimp-over-pasta-with-spinach-yogurt-pesto/
I've always had a thing for yogurt, but with each Stonyfield flavor I try, I fall more in love with it every day. From smoothies to dips, baked goods to a plate of pesto-covered pasta, Stonyfield is a natural choice when it comes to good-for-you ingredients. Their yogurts, milks and butters are made without use of toxic persistent pesticides, artificial hormones, antibiotics and GMOs. And with the USDA Organic seal, you can count on it.
So what's a party without presents? Stonyfield is generously offering a case of yogurt and a Stonyfield cookbook to six lucky readers (one here and one at each of the blogs listed above)! After you complete the entry tasks below, head over to the blogs I mentioned earlier to enter their giveaways, as well! Good luck!

Disclosure: As part of the Stonyfield Clean Plate Club, I was offered the opportunity to host this Virtual Cooking Party. Compensation was provided by Stonyfield; however, the photography & opinions expressed herein are solely those of the author.