As I mentioned at the end of 2013, I'm simply amazed that it's been six years since I began blogging. On January 15th, 2008, I hit the 'post' button and entered an amazing world of talented people, exciting events and once-in-a-lifetime opportunities. I've made lifelong friends, created dishes I've fallen in love with (and some I haven't), worked with respected brands and experienced things I never imagined possible. I feel incredibly blessed that this is what I get to do for fun and I can't wait to see what the next six years hold!
So today, I'm 'toasting' to the past six beautiful years. This protein shake is one I hinted to last week on Instagram. It's my favorite new way to get a boost in the mornings or in the early evening before a boot camp session. The bonus? It tastes just like dessert. Seriously… who doesn't like chocolate-covered strawberries?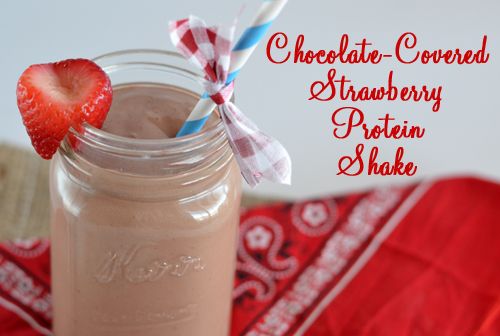 Now, on to the best party of a party… the presents! Because of readers like you, this blog is successful. You're why I bake and why I write. So, I'm offering one lucky reader an Amazon gift card in the amount of $60 to celebrate these past six years! Just complete the entries listed below in the Rafflecopter widget and you're all set! Now let's party!

Disclosure: This is not a sponsored post. The gift card is provided by me simply as a thanks to you!