I grew up thinking that with a whole lot of wishing (and pretending), I could have the perfect life. If I just got good grades, walked a straight line, hung with the right crowd, went to church, made my parents proud and married a nice guy, things would be just fine. And yes, I've done most, if not all, of those things. However, things aren't perfect. And yet, I tend to think that they still can be.
I don't always let on to the darkness that sometimes hangs over me. Most days, the clouds are a bright white and the breeze softly blows them by. But other days, they're ink black and they press down so hard that I don't want to move, let alone face the day. And yet, I have no need to feel this way. I lead an incredibly blessed life… I know this (and tell myself so, constantly), but I still seem to live in a pit that I can't climb my way out of.
I recently completed the Live More Weigh Less Challenge, and while I met a number of amazing women going through similar struggles, it's still entirely up to me to put in the work and make a change in the way I think and react. So this year, I'm choosing One Little Word to help me in the process: Faith. A word kept on a key that I'll wear as a daily reminder to have:
Faith in myself…

to love, grow, flourish, believe in and become the best 'me' there is (emotionally & physically).

Faith in the possible…

of the known and unknown.

Faith in taking just one more step…

to push myself and never, ever, give up.

Faith that one day, I'll be able to pull myself up out of this pit…

and never return.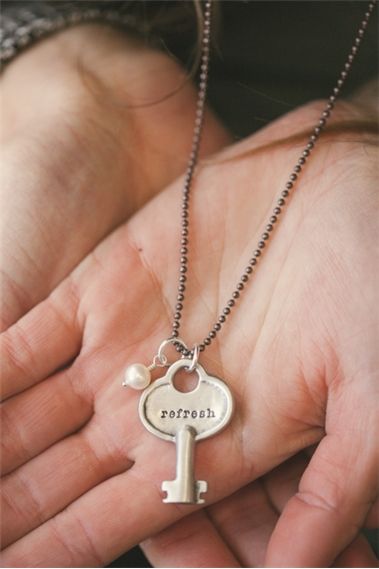 That key I mentioned above? It's the Word of the Year Necklace from Lisa Leonard Designs and I found it via the lovely Kristen of Dine & Dish. Kristen is giving away one of these beautiful necklaces on her blog and you've got until midnight CST on Wednesday, January 8th to enter. Just leave a comment for her with your One Little Word for 2014 and you're in.
Have faith… things aren't always as bad as they seem.