My heritage is far from Italian, but I love a good bowl of pasta any day of the week. It's even better when Momma G makes her famous meatballs. They're beloved by the guys in the family and requested quite often, in fact.
We've got an abundance of venison in the freezer, so when I was debating on what to make for Contadina's Clean Plate campaign, Venison Meatballs immediately came to mind. It's a beautiful dish that lends itself to a large group, say those numerous family and friends visiting over the holidays? The spices are fragrant and the Contadina tomatoes, super-fresh. Just choose your favorite pasta and top it off with the recipe below.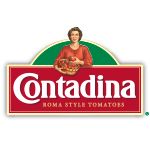 Ready for a laugh? Contadina's 'Somewhat Famous' comedic video series is a funny spin-off of celebrity reality shows, and takes viewers into the kitchens of real moms, who just happen to share the same names as A-list celebrities. For example, watch as Linda gets the scoop on spaghetti sauce from Meg Ryan.
Angel Hair with Venison Meatballs
Ingredients
For the Sauce:

1/4 c extra-virgin olive oil
2 cloves garlic, minced
1 md onion, diced
2 (29 oz) cans Contadina tomato puree
1 (28 oz) can Contadina crushed tomatoes with roasted garlic
1 tsp fresh basil, chopped
1 tsp Kosher salt
1/4 tsp freshly ground pepper
2 tbsp granulated sugar

For the Meatballs:

2 lb ground venison
1/2 md onion, chopped
1 clove garlic, minced
1/2 tsp Kosher salt
1/2 tsp freshly ground pepper
1/4 c oatmeal
1 lg egg
1/2 c half & half
Instructions
For the Sauce:
In a large pot, add the olive oil and sauté the chopped onion and garlic for about 3-4 minutes, or until the onions are translucent. Add remaining ingredients to pot and simmer for 3 hours.
For the Meatballs:
About 30 minutes before the sauce is finished cooking, preheat oven to 350 degrees F. In a large bowl, mix all ingredients until throughly combined. Roll meatballs into golf-ball size and place on a parchment paper-lined baking sheet. Bake for 30-35 minutes, then add to sauce and stir to coat.
http://mybakingheart.com/2013/12/09/angel-hair-with-venison-meatballs/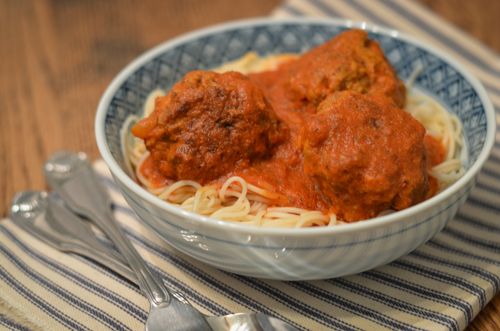 Every mealtime masterpiece starts with Contadina and ends with a clean plate. Our mission is to gather families together around the dinner table with our delicious, Italian-style recipes and carefully-sorted Roma-style tomatoes.

Disclosure: Compensation was provided by Contadina via Glam Media. The opinions expressed herein are those of the author and are not indicative of the opinions or positions of Contadina.