Happy Tuesday, sweet friends. I've been pretty busy as of late and because of that, it's been quite a while since I've baked with the lovely TWD group. However, after looking at this week's recipe, I just didn't have the willpower to pass it up. Would you?
If you're a fan of brownies, then this recipe is right up your alley. Soft, chewy and with little pockets of underdone batter, this is absolutely a brownie in cookie form, no doubt. Plan ahead, though… there is a timely chilling period (that makes you want to skip the baking process and dive right in to the dough), but the end result is so worth it.
We're no longer posting the recipes via weekly hosts like we did in the past, so for the recipe, see Baking with Julia: Savor the Joys of Baking with America's Best Bakers
by Dorie Greenspan, or find it here. And don't forget to check out the other bakers' cookies on this week's Leave-Your-Link post!
Double Chocolate Cookies (pg. 329)
Source: Baking With Julia by Dorie Greenspan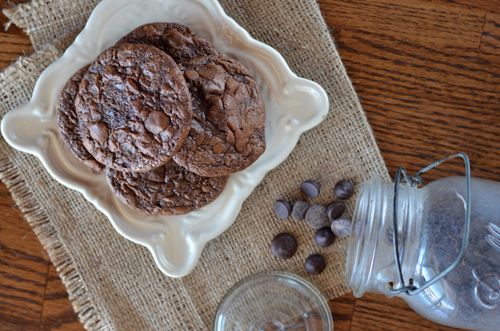 Disclaimer: This post contains affiliate links.