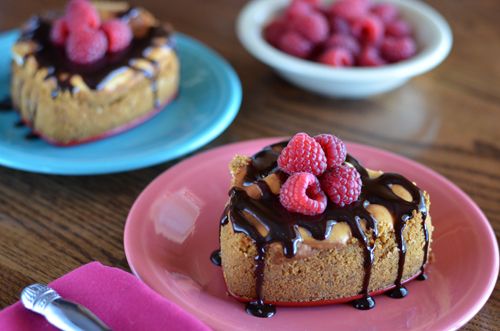 Over four and a half years ago, I joined a small blogging group called The Daring Bakers. I had a few (questionable) months under my blogging belt and thought I could tackle the world… until I met the DB team and read my first recipe challenge. I look back on it now and what a mess it was. The coating, the "shapes", the lighting & photos… all of it. At the time, though, I was incredibly proud of those Cheesecake Pops. And the feedback I received just boosted my spirits even higher.
What I now miss, is the community and camaraderie that that group brought me in my early blogging days. It was something truly special and for that, I'm grateful. So, it's hard to imagine that one of those incredible people is gone from our group. Lisa Cifelli, co-founder of The Daring Kitchen (originally The Daring Bakers) passed away unexpectedly Tuesday morning. From the Facebook message thread alone, it's understandable just how much she will be missed. I didn't know her on a private level, but from reading her blog posts & comments and working with her through DB, it's easy to see that she had a huge heart, an amazing sense of humor and enviable organization skills.
Today, our daring group of bakers and cooks is joining together to honor Lisa and her bright spirit. I've remade one of my favorite recipes in the DB archives, changing things up once more. By halving the ingredients, I made two perfect mini cheesecakes and added chocolate ganache & fresh raspberries on top. I'd like to think that if Lisa were here, we'd be sharing the dessert over cups of coffee and stories of DB accomplishments. Instead, I'm lifting up Lisa's family in prayer for the long road ahead.
To you, Lisa… thank you for the memories and challenges, but especially for believing that all of us could bake like rock stars.
Chocolate Ganache-Topped Mini Cheesecakes
Ingredients
Crust:

1 c graham cracker crumbs
4 tbsp unsalted butter, melted
1 tbsp granulated sugar
1/2 tsp pure vanilla extract

Cheesecake:

1-1/2 (8 oz) sticks of cream cheese, at room temperature
1/2 c granulated sugar
2 large eggs
1/2 c heavy cream
1/2 tbsp pure vanilla extract (or the inside of a vanilla bean)
1/2 c fresh raspberries, for topping (if desired)

Ganache:

4 oz dark chocolate chips
1/4 c heavy cream
Instructions
Preheat oven to 325 degrees F. Line a baking sheet with parchment paper and set aside.
Mix together the crust ingredients and press into your preferred pans. You can press the crust just into the bottom, or up the sides of the pan, too – baker's choice. Set crusts aside.
Combine cream cheese and sugar in the bowl of a stand-mixer (or in a large bowl if using a hand-mixer) and cream together until smooth. Add eggs, one at a time, fully incorporating each before adding the next. Make sure to scrape down the bowl in between each egg. Add heavy cream & vanilla and blend until smooth and creamy.
Evenly pour batter into prepared crusts and tap the pans on the counter a few times to bring all air bubbles to the surface.
Bake 35 to 45 minutes, until it is almost done – this can be hard to judge, but you're looking for the cake to hold together, but still have a lot of jiggle to it in the center. You don't want them to be completely firm at this stage. Close the oven door, turn the heat off, and let rest in the cooling oven for one hour. This lets the cakes finish cooking and cool down gently enough so that they won't crack on the top. After one hour, remove cheesecakes from oven. Let them finish cooling on the counter, and then cover and put in the fridge to chill. Cook the chocolate chips and heavy cream in the top of a double boiler over simmering water until smooth and warm, stirring occasionally. Cool for 5 to 10 minutes before using.
Once the cheesecakes are fully chilled, pull from refrigerator and drizzle chocolate ganache over the top. Stack fresh raspberries on top, if desired. Serve immediately or return to refrigerator until ready.
Adapted from: Abbey's Infamous Cheesecake by Abbey T.
http://mybakingheart.com/2013/11/15/chocolate-ganache-topped-mini-cheesecakes/