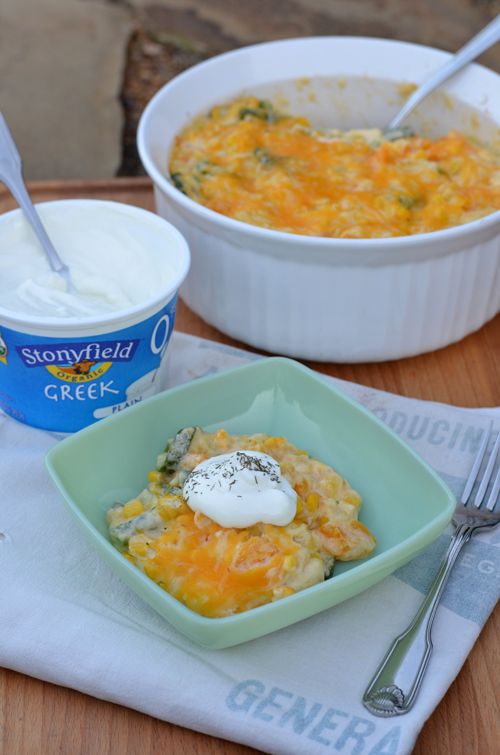 If you're abuzz in the social media circles of Facebook, Twitter, Instagram and Pinterest, then you've probably seen a lot of chatter around pesticides this month. The most common pesticide? GMOs, of course. GMOs are Genetically Modified Organisms, ones whose genetic makeup (DNA) has been altered in a way that does not occur naturally. In North America, over 70% of packaged food contains GMOs (that's over 30,000 different products on our local grocery store shelves!). And it's not just what WE eat… animal feed can be a source of GMOs, as well. Which means that milk, cheese, eggs, meat and farmed fish could be from animals that are fed GMOs.
How can you avoid them? Go organic! USDA Organic standards prohibit the use of GMOs. When you're at the market, look for the Non-GMO Project Verified seal on products. This third-party verification certifies that a marked product is made without the intentional use of GMOs. Also check your produce labels. Did you know that the five-digit code starting with an '8' means that that produce was grown using GMOs? Five-digit codes starting with a '9' mean they're organic and ones with a '3' or '4' mean they were grown conventionally.
So, for the month of November, I've teamed up with Stonyfield in their ongoing #fightpesticides campaign. Stonyfield products are made without the use of toxic persistent pesticides, artificial hormones, antibiotics and GMOs and they're yummy, to boot. The casserole recipe below is entirely organic, using farm-fresh zucchini, crookneck, butternut & acorn squashes and Stonyfield Greek yogurt. Derived from Native American tradition (the 'three sisters' are comprised of squash, corn and beans), this is a perfect Fall dish that warms my tummy and my heart!
Ingredients
2 md green zucchini, chopped
2 md yellow crookneck squash, chopped
1 md butternut squash, chopped
1/2 sm acorn squash, chopped
1 md onion, chopped
Kernels from 1-2 md ears of corn
1/2 lb fresh green beans, ends snapped off and broken into bite-size pieces
1 tbsp unsalted butter
2 tbsp all-purpose flour
1 c water
1 c Stonyfield Greek yogurt, plus more for garnish
1 c shredded cheddar & mozzarella mix, plus more for garnish
Fresh dill, for garnish
Instructions
Preheat oven to 350 degrees F. Combine sliced zucchini, squashes, corn kernels, green beans and onion in a wire steamer basket, , placed over gently boiling water. Cover and let steam for 10-12 minutes, until squash is fork-tender. Remove ingredients to a large serving dish and set aside.
In a large saucepan, make a roux by combining the butter, flour and water. Then add 1 cup of Stonyfield Greek yogurt and 1 cup of cheese mix and stir until sauce is smooth. Add steamed vegetables and mix to coat with the sauce. Place in a 2-quart casserole dish and bake for 30 minutes. Remove from oven, top with desired amount of additional cheese and return to oven. Heat until cheese is golden brown and casserole is bubbly.
Remove from oven once more and let sit for 10-15 minutes. Serve warm, topped with a dollop of Stonyfield Greek yogurt and sprinkled with fresh dill.
http://mybakingheart.com/2013/10/21/three-sisters-casserole/
Serve this casserole to the whole family and squash those pesticides right out of your diet!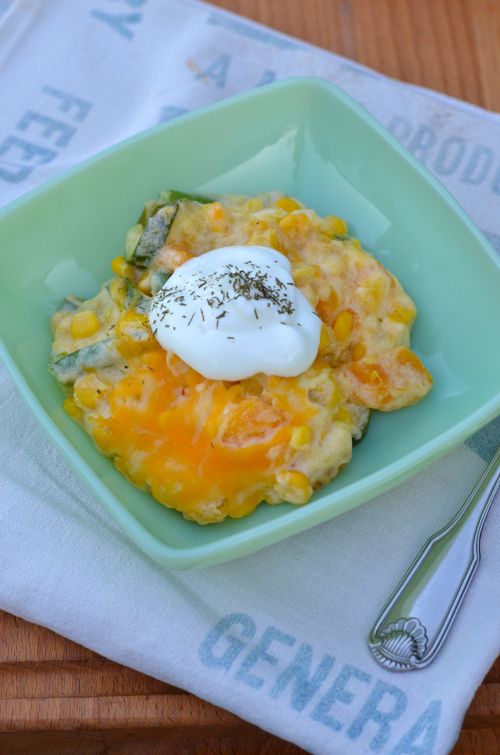 Disclosure: Compensation was provided by Stonyfield in the form of product coupons; however, the photography & opinions expressed herein are solely those of the author.