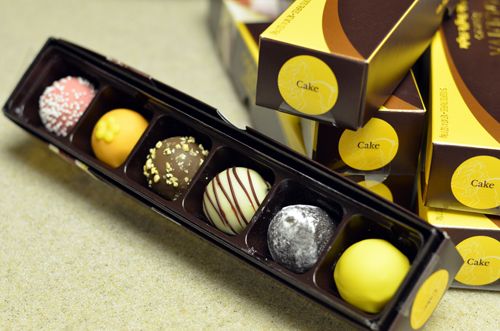 I love it when a sweet package arrives on my doorstep. So, when I opened a giant box containing several flights of Godiva's newest truffles, I was in heaven. They landed before I was even aware that I had been chosen to host a Girls' Flight Night Party, a truffle tasting & pairing, if you will. And instead of planning a little girlfriend get-together, my couch was calling… Party of One, your truffles are ready! It was pretty hard not to open up all six boxes right then and there, but I persevered, and couldn't wait to throw a little Saturday night shindig!
The guys were hosting their poker party the same night, so what better way to treat the wives and girlfriends in attendance than to a special tasting of Godiva Truffle Flights, breads, cheeses and wine?
Just reading the delectable flavors included in our 'Cake' flights made me swoon… Birthday Cake, Pineapple Hummingbird, Cheesecake, Red Velvet Cake, Chocolate Lava Cake & Lemon Chiffon. Each was rich, smooth and incredibly heavenly. And along with cheesy puff pastry bites (recipe coming soon!), we paired our Godiva Truffle Flights with the Apple Cider Sangria below. If you like a sweet sipper, then this sangria is for you! It's tart from the apples, tangy from the cider and the effervescent bubbles are light on the tongue. I absolutely loved it with the Cheesecake Truffle.
Get ready to experience truffles as you never have before. Much like you would taste a wine flight, tasting a GODIVA Truffle Flight is a progressive exploration of flavors, textures and aromas. Our Executive Chef Chocolatier, Thierry Muret, personally selected the truffles in each of the six flights, placing them in order for the ideal tasting experience. The concept is thoroughly groundbreaking—we know because we invented it—and deliciously GODIVA.

Disclosure: Compensated post by Godiva.