I'm so excited to be working with OXO again during their 'Bake a Difference' campaign benefiting Cookies for Kids' Cancer. The first time, I baked up a batch of Flourless Peanut Butter-Chocolate Chip Cookies and now, I'm being a Good Brownie!
Brownies are a staple around this house, so it was an obvious choice when OXO asked me to pick between the cookie, cupcake and brownie groups. In their third year of participation, OXO has again pledged up to $100,000 to support this worthy cause, inspiring others to get involved. So during the month of September, they're donating $100 for each blog post specially dedicated to this campaign.
For me, there's nothing better than the harmonious blend of brownie & cookie. I've always loved Dorie's fabulous Chipster-Topped Brownie recipe, so I decided to put a little spin on them with these Pumpkin Spice Brookies. They're sweet, spicy and lend a warm Fall flavor from the included Pumpkin Spice M&Ms.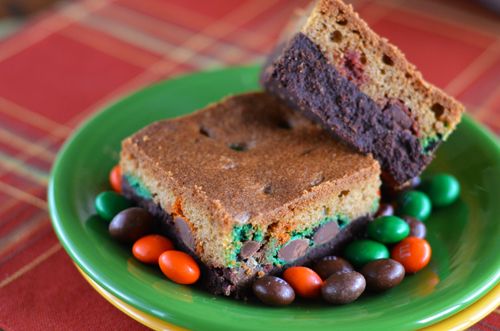 Ingredients
For the Brownie Layer:

3 oz bittersweet chocolate, coarsely chopped
1-1/2 oz unsweetened chocolate, coarsely chopped
8 tbsp unsalted butter, cut into chunks
1/2 c + 1/3 c granulated sugar
2 lg eggs
1/4 tsp Kosher salt
1/4 tsp pure vanilla extract
1/2 c all-purpose flour

For the Cookie Layer:

1/2 c + 2 tbsp all-purpose flour
1/4 tsp baking soda
1/4 tsp Kosher salt
6 tbsp unsalted butter, at room temperature
1/4 c + 2 tbsp light brown sugar, packed
1/3 c granulated sugar
1 lg egg
1/2 tsp pure vanilla extract
1 c Pumpkin Spice M&Ms
Instructions
Getting Ready:
Center a rack in the oven and preheat to 350 degrees F. Butter and flour an 8"x8" brownie pan and place on a baking sheet.
To make the Brownie Layer:
Put both chocolates and the butter in a bowl over a saucepan of simmering water. Stirring occasionally, heat just until the ingredients are melted, shiny and smooth. If the mixture gets too hot, the butter will separate from the chocolate. Remove the bowl from the heat.
Working with a hand mixer in a large bowl, beat the sugar and eggs on medium-high speed for about 2 minutes, until pale, thick and creamy. Beat in the salt and vanilla extract. Reduce the speed to low and mix in the melted chocolate and butter, mixing only until incorporated. Scrape down the sides of the bowl with a rubber spatula, then, still on low speed, add the flour, mixing only until it disappears into the batter. Scrape the batter into the prepared pan and set aside.
To make the Cookie Layer:
Whisk together the flour, baking soda and salt. Working with the hand mixer in another large bowl, beat the butter and both sugars together on medium-high speed until smooth and creamy, about 3 minutes. Add the egg, beating for 1 minute after addition. Beat in the vanilla. Reduce the speed to low and add the dry ingredients, mixing only until they disappear into the dough. Fold in the Pumpkin Spice M&Ms with a spatula. Drop the cookie dough by spoonfuls over the brownie batter and, using a spatula and a light touch, spread it evenly over the batter.
Bake for 50 to 55 minutes, or until the cookie top is a deep golden brown and firm and a thin knife inserted into the brownie layer comes out with only faint streaks of moist chocolate. Transfer the pan to a rack and cool to room temperature.
When the brownies are completely cool, run a knife between the sides of the pan and the brownies, then invert them onto another rack, turning them right side up on a cutting board. Cut into 9 bars and serve.
Adapted from: Baking - From My Home to Yours by Dorie Greenspan
http://mybakingheart.com/2013/09/19/pumpkin-spice-brookies-with-oxo/
Once we were both chosen for the #OXOGoodBrownie campaign, fellow blogger Krystal, from Mrs. Regueiro's Plate, and I decided to team up and have a Brownie Party. I adore this gal and was so excited to work with her again!
She made the Cheesecake Marbled brownies with heath bar candies you'll find at the link above. Instead of cheesecake, she used mascarapone for an Italian twist and then added heath bar candies because of their beautiful Fall colors. And as she said, they look to be the best of both cheesecake and brownie worlds!
Keep an eye out for the cookies, cupcakes and brownies galore that have been already been pinned to OXO's Pinterest board! So many yummy recipes, so little time!
And while you're out & about, look for specially stickered items at participating retailers – if you purchase any of these baking tools with a 'Cookies for Kids' Cancer' sticker, OXO will donate 25 cents per purchased item in support of pediatric cancer!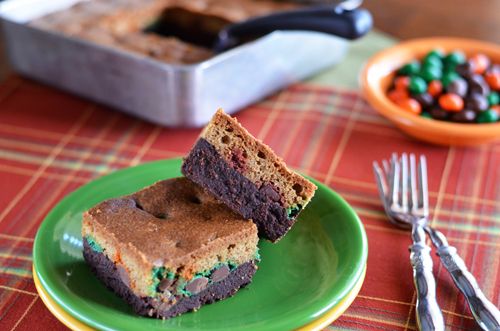 Disclosure: I have partnered with OXO to help promote their participation with 'Cookies for Kids' Cancer'. I was compensated with a set of brownie-baking tools by OXO. However, opinions are entirely my own and I have not been paid to publish positive comments.