Thank you so much for coming along on this remodeling journey with us! If you remember, back in July I first sang the praises of Delta's interactive digital design tool. Then, I gave you a few helpful tips on making easy & budget-friendly changes to your kitchen. So, if you've stuck around this long, you're in for a treat!
After two months, our mini kitchen remodel is finally complete and we are so excited to be using our new Delta faucet. The design and technology of the Cassidy faucet has provided value and smart solutions for everyday living. Tasks near the sink are more fun, easier and cleaner. If we're working with raw meat or kneading sticky bread dough, Delta's Touch2O Technology requires just a tap of the wrist or forearm almost anywhere on the faucet to turn on a stream of water.
My grandparents installed the former faucet and sink back in the 90s, once their original set (from 1980) was worn out. So, obviously the area was just begging for a fresh design, one that improved the functionality of the kitchen and looked beautiful at the same time. Delta generously provided us with the faucet, but we went ahead and purchased a new sink so the design would perfectly flow.
In a few years, we'll begin replacing the countertops, refinishing the cabinets and adding a nice, tiled backsplash (yes, I already have them picked out)… but for now, we're really happy starting our kitchen remodel with the Cassidy faucet.
If you're in the market for a new kitchen or bathroom faucet, we highly recommend one with Delta's Touch2O Technology. The video shown at the provided link walks you through the varied designs and gives you an idea of how special these faucets are. They're also really easy to install on your own – no plumber needed! Delta Faucet has their own YouTube channel, showcasing a number of videos ranging from product lines to DIY installation. Check it out!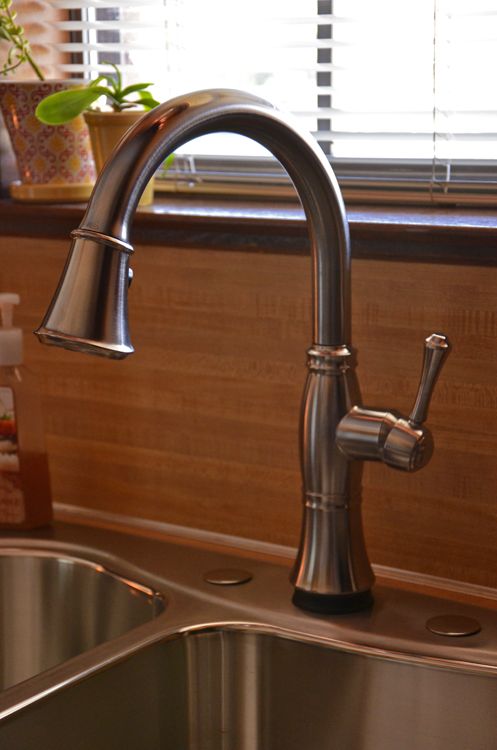 Delta Touch2O Technology for your kitchen and bathroom is precisely in tune with your every touch. Take the quiz to learn which faucet style best describes you at deltafaucet.com.

Disclosure: Compensation was provided by Delta via Glam Media. The opinions expressed herein are those of the author and are not indicative of the opinions or positions of Delta.