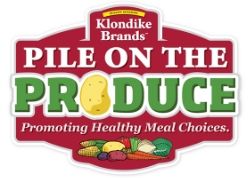 When Klondike Brands contacted me about collaborating with them on their 'Pile on the Produce' initiative, I immediately said yes. During my trip to Idaho with the Potato Commission, I had the wonderful opportunity to meet several key folks at Potandon, the producers of Green Giant and Klondike Brands. They were incredibly welcoming, down-to-earth and made me feel right at home. So of course, I was honored to work with them again. After all, September is National Potato Month!
I love a good Margherita Pizza and wanted to recreate that classic Italian taste with this potato dish. The recipe features fresh-from-the-farm Klondike Rose® Potatoes, bright & juicy Roma tomatoes and a handful of fragrant basil leaves, picked from my backyard. Including a generous amount of garlic and mozzarella cheese, this is one dish that is sure to please!
Margherita Scalloped Potatoes
Ingredients
2 c low-sodium chicken broth
1-1/2 c skim milk
1/4 c + 2 tbsp all-purpose flour
2 tsp cornstarch
2 clove fresh garlic, minced
1 tbsp fresh basil leaves, finely chopped
2-1/2 lbs potatoes, washed, peeled and sliced
Kosher salt & freshly ground pepper, to taste
2-1/2 c shredded, low-fat mozzarella cheese, divided
3 Roma tomatoes, washed and sliced
Instructions
Preheat oven to 375 degrees F. Spray a 9x13-inch baking dish with non-stick spray and set aside.
Thoroughly whisk chicken broth, milk, flour, cornstarch and garlic together in a medium saucepan; cook over medium-low heat, stirring occasionally for 3 to 5 minutes, or until thickened. Remove from heat and add basil leaves, stirring to combine; set aside.
Cut potatoes into 1/8-inch thick slices. Place half of the potato slices in overlapping pattern in baking dish. Salt and pepper to taste, then layer one cup of cheese and half of the tomatoes on top. Spoon half the sauce mixture over the potatoes. Repeat with the second cup of cheese, remaining tomatoes and sauce.
Cover and bake for 30 minutes. Remove from oven and sprinkle with remaining 1/2 cup of cheese. Bake, uncovered, for 15 minutes longer or until potatoes are tender and cheese is lightly browned. Remove from oven and let sit for another 15 minutes before serving.
http://mybakingheart.com/2013/09/06/margherita-scalloped-potatoes/
Want to 'Pile on the Produce' for yourself? Then enter my giveaway for a $25 prize pack from Klondike Brands and you could recreate this dish for yourself! Four prize packs are up for grabs and you've got 6 chances to enter! Ready? Go!
As a bonus, Klondike is offering a $1.00 off coupon when you purchase a 12 oz. bag of Green Giant® Fresh Asparagus and a 5 lb. bag of Klondike Rose® potatoes. Just click on the link, sign up for an account, or log in if you're already registered. The coupon is not store specific, but if you need help finding a store, check out the handy Store Locator.

Disclosure: Product was provided to me by Klondike Brands for review and recipe creation. The opinions expressed herein are those of the author and are not indicative of the opinions or positions of Albion Fit.