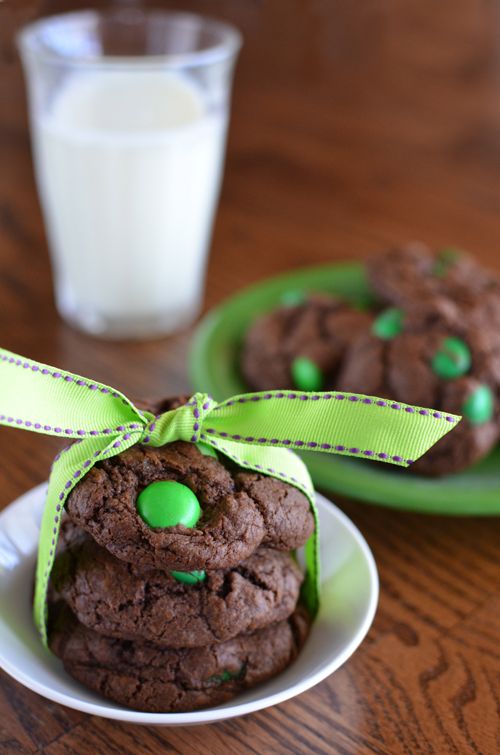 Welcome to our 'Pot of Gold' Virtual Baby Shower to celebrate the upcoming arrival of Miss Maeve, daughter of Jessica at Sunny Side Up! As your hosts, Krystal of Mrs. Regueiro's Plate and I are featuring all of the delicious dishes that were created just for today's shower!
As with so many of my blogging friends, I met Miss Jessica at the 2011 Foodbuzz Festival in San Francisco. She is bright, bubbly and incredibly well-traveled (she's lived in China, folks!). One day soon, Jessica will deliver (what I know will be) a gorgeous baby girl and I don't think I could be any happier for her and her husband, Jesse!
There are so many yummy dishes (and beautiful photos!) that were brought to the table today. It's times like these that I wish the food bloggers in our tight-knit community lived a little closer to one another, so that I could sample all of these treats in person!
Up first? These Chocolate Mint M&M Cookies, from yours truly…
Chocolate Mint M&M Cookies
Ingredients
1-1/4 c all-purpose flour
1/2 tsp baking soda
6 tbsp unsalted butter
2/3 c light brown sugar, packed
1 tbsp water
1 c dark chocolate chips
1 lg egg, lightly beaten
1 (8 oz) pkg dark chocolate, mint M&Ms
Instructions
In a small bowl, whisk together flour and baking soda; set aside. In a medium saucepan, combine butter, brown sugar and water. Cook and stir over low heat until butter has melted. Add chocolate chips, cooking and stirring until chocolate has melted. Remove from heat and pour into a large, heat-resistant bowl, letting the mixture cool for 10 minutes.
Once cool, stir egg into chocolate mixture. Fold in flour mixture until combined. Add the M&Ms, folding just until mixed. Cover dough and chill for 1 to 2 hours, or until dough is easy to handle.
Preheat oven to 350 degrees F. Shape dough into 2-inch balls and place them onto parchment paper-lined baking sheets, about 2 inches apart from one another. Bake for 10-12 minutes, or until edges are set. Transfer cookies to a wire rack to cool completely.
Adapted from: Better Homes & Gardens
http://mybakingheart.com/2013/08/26/chocolate-mint-mm-cookies-for-jessicas-pot-of-gold-virtual-baby-shower/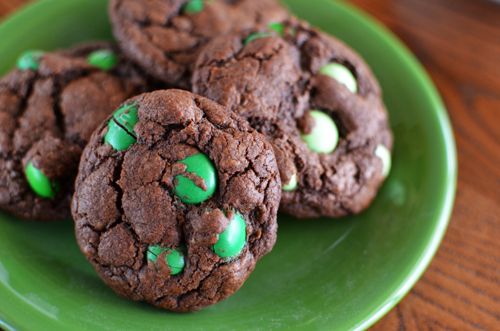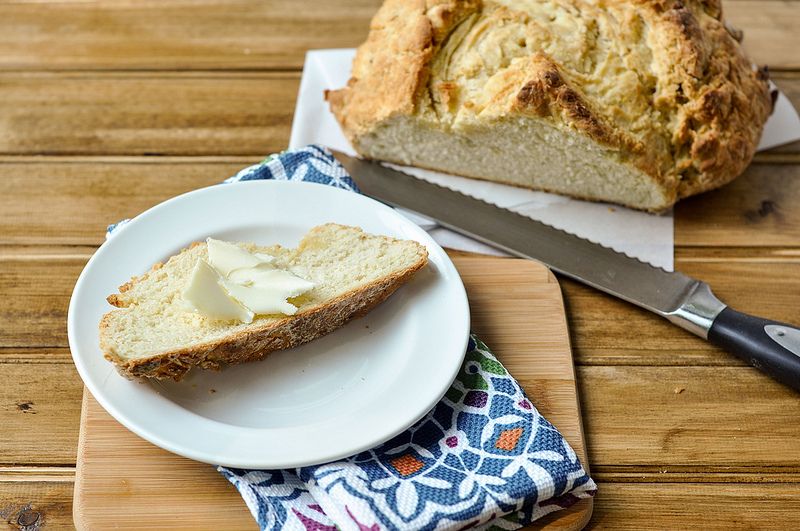 I love Irish Soda Bread and this loaf by Rachel at Good Thymes and Good Food has my heart.
Katie of So Tasty, So Yummy baked up this gorgeous Chocolate Guinness Cake. You had me at chocolate, Katie!
There's nothing better than sprinkles and Krissy of Dainty Chef did not disappoint with her colorful Rainbow Cupcakes!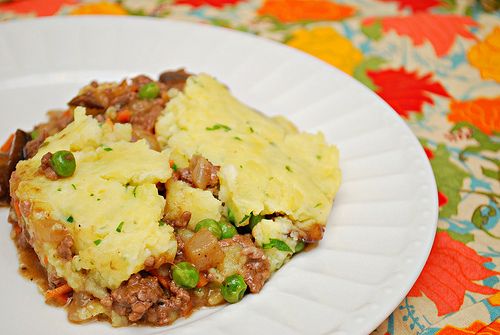 Joelen of What's Cookin', Chicago? made a warm & filling Shepherd's Pie, sure to comfort the new mommy & daddy!
Amber of Sugared Whisk made these adorable Irish Egg Rolls. Corned beef & cabbage in egg roll-form? Yes, please!
Elly of Elly Says Opa whipped up a platter full of sinful Steak & Guinness Sandwiches.
Nikki of Seeded at the Table made a bright & cheery 'End of the Rainbow' Fruit Salad, sure to please!
How about a few of these perfectly gorgeous Irish Cheddar Scones by Kelsey of Apple A Day?
Nicole from Prevention RD brought these elegant Guinness Truffles to the table, because no party is complete without a fancy dessert! Simply beautiful!
And last but certainly not least, Krystal churned up a gallon of this bright Shamrock Ice Cream. I'll take two scoops, please!
Congratulations again, Jess & Jesse! I'm anxious to see Maeve's first pictures!