This month, I'm one of fifty entrants into the Hodgson Mill 'Summer Pastabilities' Recipe Contest. And my entry is this beautiful 'Loaded Baked Potato' Pasta Salad shown above.
This past weekend, C smoked his first brisket out on the patio in our new smoker (more on that later!). I began to prep all the ingredients for the salad… and as I stirred and chopped away, I knew that this would be good, but I had no clue as to how addicting it would be! We invited over Momma G and Dad and I planned to send leftovers home with C's mom, as she was stopping by later in the evening. However, after his first helping C returned for two more, and by the end of dinner, the bowl was almost empty. That's always a good sign in our house!
This 'end of Summer' pasta salad is filled with a creamy & tangy dressing, crisp green onions, crunchy bacon and shreds of cheddar cheese. It's definitely one I'll be making again, and as I've been told, a recipe for the record books!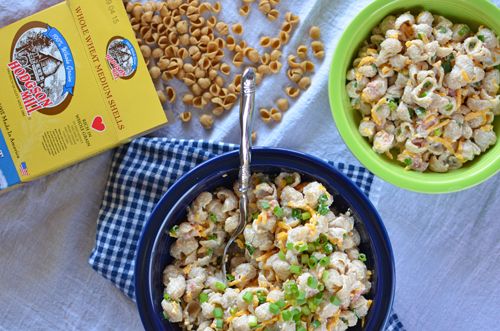 'Loaded Baked Potato' Pasta Salad
Ingredients
1 (16 oz) box Hodgson Mill whole-wheat medium shells
1 lb bacon, cooked, cooled and chopped
1/2 c olive-oil mayonnaise
1 c fat-free sour cream
1 tsp Kosher salt
1 tsp freshly ground black pepper
1 lb bacon, cooked, cooled and chopped
8 green onions, chopped
1-1/2 c cheddar cheese, shredded
Instructions
Boil 4 quarts of water and, if desired, salt to taste. Add pasta to boiling water, stirring vigorously until water begins boiling again (about 30 seconds). Cook 7 to 9 minutes, or longer until desired tenderness. Do not overcook! Drain and set pasta aside.
Cook the bacon in a large skillet. Once crispy, drain and let cool. Crumble into bite-size pieces.
Mix the mayonnaise and sour cream in a small bowl, seasoning with the kosher salt and pepper. Add to the pasta, along with the bacon, green onion and cheddar cheese. Season with more salt and pepper, if desired. Refrigerate for 3 hours, up to overnight, before serving.
http://mybakingheart.com/2013/08/07/loaded-baked-potato-pasta-salad/
Want to win a delicious selection of assorted pasta for yourself? Hodgson Mill is giving one lucky MBH reader a prize pack worth $25!
GIVEAWAY CLOSED. Congrats to Sherri – enjoy your pasta pack!
Just leave a comment below with your favorite variety of pasta and you're entered to win! Contest ends August 11th at midnight CST.
And to stay connected with Hodgson Mill, join their email newsletter, check out the Hodgson Mill blog, join the community on their Facebook page and follow them on Pinterest!

Disclosure: A variety of pasta was provided to me by Hodgson Mill for preparation of entry. The photographs and opinions expressed herein are solely my own.