Although there are a few more weeks left before Summer comes to a close, it feels as if it's flown by. School supplies are already showing up on shelves and everyone is cramming in their last minute vacations and road trips. I, on the other hand, am staying away from the crowds and chilling out inside with DVR'd episodes of the The Chew.
The show is chock full of informative and fun entertainment, ranging from education about nutrition, lessons on how to purchase & use quality kitchen equipment, comparing labels on foods to make the best choices and insider information on restaurants, companies, manufacturer's facilities, processing plants and farms!
This week, I made Carla's Biscuits & Berries as a take on her Strawberry Napoleon, featured in the video clip below. It's light and just sweet enough to curb those sugary cravings… and in the last few weeks of Summer, a fitting treat!
Tune In: Fresh Daily. 1e|12p|c on ABC.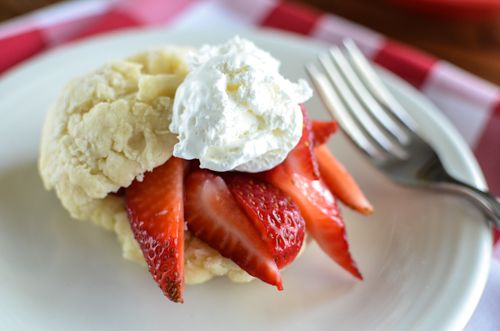 Ingredients
For the Berries:

1 lb fresh strawberries, thinly sliced
Juice of 1 lemon
1 tsp granulated sugar, optional

For the Whipped Cream:

3/4 c heavy cream
1 tbsp Confectioners' sugar, plus more to garnish

For the Drop Biscuits:

2 c all-purpose flour, plus more for bench flour
4 tsp baking powder
2 tbsp granulated sugar
1 tsp lemon zest
1 tsp Kosher salt
5 tbsp unsalted butter, cut into pats
1/2 c plain yogurt
2/3 c skim milk
Instructions
Preheat oven to 375 degrees F. Line a baking sheet with parchment paper and set aside.
For the Berries:
Toss together berries with the juice of a lemon and sugar. Allow to sit while preparing the biscuits.
For the Whipped Cream:
Whisk the heavy cream in a chilled bowl until foamy. Sprinkle in the sugar and continue to whip until medium peaks form. Whip for 15 more seconds. Re-whip when ready to serve.
For the Drop Biscuits:
In a large mixing bowl, whisk together the flour, baking powder, sugar, lemon zest and salt. Add the pats of butter and cut in using your hands or a pastry blender. Combine until the butter is blended and the mixture is crumbly. In a medium bowl, stir together the yogurt and milk. Pour into the flour mixture and work together until incorporated. Add flour as needed but dough should still be moderately sticky.
Using a 3-ounce ice cream scoop, drop balls of dough into a small bowl of bench flour one at a time. Working with your hands, loosely shape the dusted ball and place on the baking sheet. Repeat with remaining dough spacing about 2 inches apart on the baking sheet. Bake for 8 to 10 minutes or until light golden brown on top.
Remove from oven and allow to cool slightly. Cut into top and bottom halves with a serrated knife. Place strawberries in between the halves. Serve with a large dollop of sweetened whipped cream and a dusting of powdered sugar.
Notes
1. Rather than sifting your flour, mix the dry ingredients with a whisk to break up any flour lumps.
2. Make sure the biscuit dough is wet enough so that it will create steam while baking, resulting in light, flakey biscuits.
http://mybakingheart.com/2013/07/24/the-chew-makes-summer-more-flavorful-and-fun/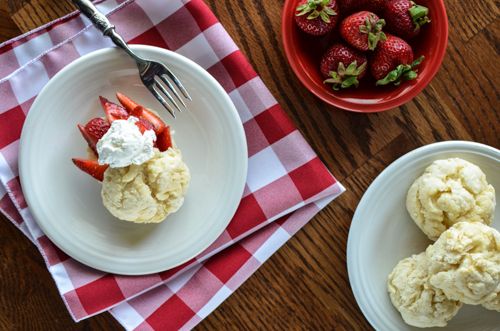 The Chew celebrates and explores life through food – from cooking to food trends, restaurants, holidays and more all aimed at making life better, fuller and more fun. Featuring celebrity chefs Mario Batali, Michael Symon, and Carla Hall, lifestyle expert Clinton Kelly and fresh face of healthy living Daphne Oz, "The Chew" is a leap forward into a delicious new kind of talk show.
Watch The Chew Weekdays at 1e|12p|c on ABC!

Disclosure: Compensation was provided by ABC via Glam Media. The opinions expressed herein are those of the author and are not indicative of the opinions or positions of ABC.