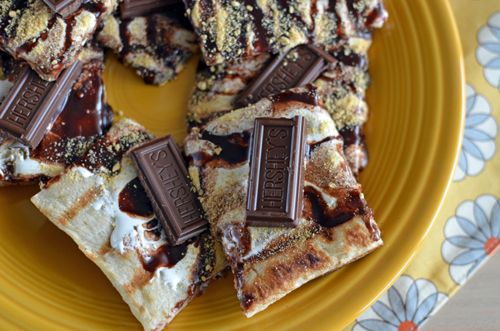 Get ready to fire up your grill and make the perfect pizza this summer! With Pillsbury Pizza Crust you can enjoy homemade pizza from the grill, without turning on your oven. Fun, affordable, and easy, Pillsbury's Pizza Crust is a great idea for your next family cookout, transforming a classic favorite into a unique outdoor experience.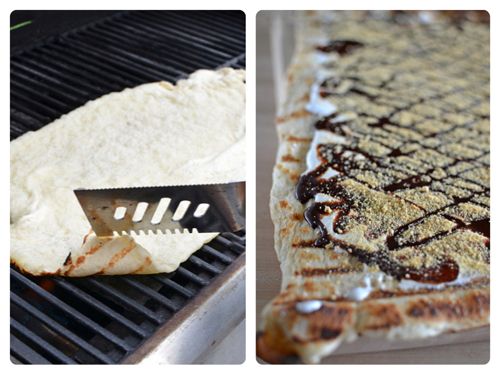 Have you ever grilled a pizza? It's out of the ordinary, right? But it's incredibly easy to achieve a perfect pizza and such a fun idea for Summer nights with the entire family! Everyone can get involved!

We've grilled a few pizzas here and there, but this time we wanted to grill a really special one. We gathered our supplies, prepped our foil & dough and camped out around the grill. And after following the super-easy instructions on Pillsbury's website (courtesy of Arlene from Cooking With Sugar), in just a matter of minutes, we had a fun, new family favorite to add to our Summer menu. The options are endless, but I mean, what's more "Summer" than a s'more?
Ingredients
1 (13.8 oz) can Pillsbury® artisan pizza crust with whole grain or Pillsbury® refrigerated classic pizza crust
8 oz marshmallow fluff
1/2 c chocolate sauce
1/2 c graham cracker crumbs
1 king size chocolate bar, broken into 16 pieces
Instructions
Heat gas or charcoal grill. Meanwhile, cut an 18x12-inch sheet of heavy-duty foil; place on large cookie sheet. Spray foil with cooking spray. Unroll dough onto foil. Starting at center, press out dough into 14x10-inch rectangle. Spray dough with cooking spray.
Turn dough rectangle over directly onto grill rack; peel off foil, and return foil to cookie sheet, sprayed side up. Cook dough uncovered on gas grill over medium-low heat or on charcoal grill 4 to 6 inches from medium-low coals, 2 to 4 minutes or until bottom is golden brown. (Watch carefully to prevent burning.) With a wide metal pancake turner, turn crust over. Cook 1 to 2 minutes longer or until bottom is set but not brown. Carefully remove from grill; placing browned side up on foil. Close grill.
Top crust evenly marshmallow fluff, 1/2 cup of chocolate sauce and 1/4 cup of graham cracker crumbs. Repeat with remaining sauce and crumbs. Slide pizza from foil onto grill. Cover grill; cook 2 to 4 minutes longer or until toppings are fully melted. To serve, cut into 4 rows by 4 rows (16 squares), then top each slice with one piece of chocolate.
Notes
Have all toppings ready to go, as the crust cooks quickly. If the crust is cooking too fast, move the pizza to a cooler part of the grill, or reduce the heat.
http://mybakingheart.com/2013/07/23/grilled-smores-pizza-with-pillsbury/
With summer here, Pillsbury knows you and your family want to enjoy the outdoors as much as possible. So at your next BBQ, why not grill pizza for a family fun night. Go to http://www.pillsbury.com/Cooking-Occasions/Occasions/Outdoor-Eating/How-to-Grill-Pizza.

Disclosure: Compensation was provided by General Mills via Glam Media. The opinions expressed herein are those of the author and are not indicative of the opinions or positions of General Mills.