When C and I signed the papers on our house, I had all of these grand dreams about the remodeling we would do. Nothing had been renovated in the 33 years since it was built, so I had a laundry list of items I wanted to accomplish… a new front door, updated tile in the entryway, wood floors in the living area, wallpaper-free bathrooms and a brighter, open, more functional kitchen. After all, that's where we spend a lot of our time.
But have you ever had a plan in mind, with no earthly idea of where to start? That's me, times ten. So when I was approached by Delta with the opportunity to install one of their beautiful, new Touch2O faucets, I jumped at their offer. Here, with just a chance email, was my starting point!
I began our design journey by utilizing Delta's interactive digital tool, which allowed me to explore and discover different faucet designs based on our personal aesthetics, what we wanted in the kitchen, how our different tastes meshed into one, etc. It was incredibly helpful in shaping the vision we had for a home upgrade… especially since we're in that learning curve of the first year of marriage.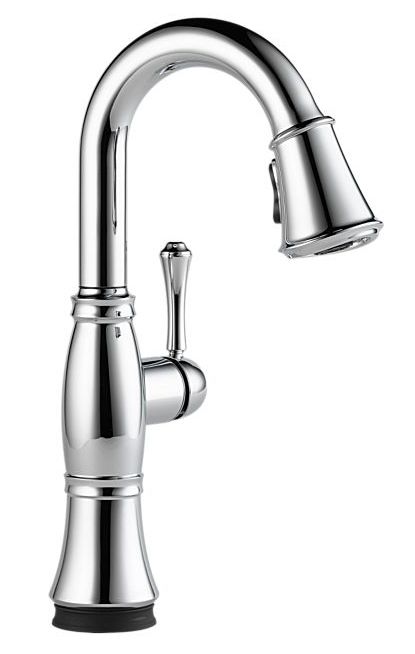 Turns out, I got the answer I was anticipating. Since our style is 'traditional' by Delta standards, our final choice was their gorgeous 'Cassidy' faucet in Arctic Stainless. I've absolutely fallen in love with the lines & gentle curves, the delicate pull-down handle and the amazing, innovative Touch2O Technology that awaits us!
Delta Touch2O Technology for your kitchen and bathroom is precisely in tune with your every touch. Take the quiz to learn which faucet style best describes you at deltafaucet.com.
To be continued…

Disclosure: Compensation was provided by Delta via Glam Media. The opinions expressed herein are those of the author and are not indicative of the opinions or positions of Delta.